Need a quick and easy way to use phonics practice for Valentine's Day? Grab these NO PREP worksheets, just print and go! Use these activities to practice reading and spelling of simple CVC and CVCe words (short a,e,i,o,u and long a,i,o,u)!
Number of pages: 90
Common Core Standards addressed: RF.K.2a, RF.K.2c, RF.K.2e, RF.K.3, RF.1.2, RF.1.2a, RF.1.3, RF.1.3c
Grade Levels: PreK, Kindergarten, 1st, Homeschool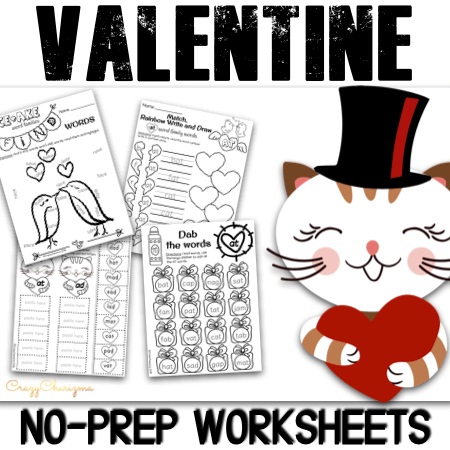 What activities will you get?
Dab the words
(read words, use the bingo dabber to dab all the words of a certain word family)
what you'll practice:
word families AT, AD, AP, AG, AN, AB, AM, OG, OT, ELL, ET, IG, ILL, IN, IT, UG, UN
AKE, ATE, ACE, ANE, AVE, OLE, ONE, OSE, ICE, IDE, ILE, INE, long U words
Spin a Word
(spin a paperclip, read the word family and add it to a letter to make a new word)
what you'll practice:
short A, O, E, I, U
long A, O, I, U
Match, Rainbow Write and Draw
(match hearts, read the word, rainbow write it, and the draw)
what you'll practice:
word families AT, AD+AN, AP+AB, AM+AG, OT+OG, ELL+ET, IG+ILL, IN+IT, UG+UN
AKE+ANE, ACE+ATE+AVE, OLE+ONE+OSE, INE+ILE, ICE+IDE, long U
Read, Cut and Paste
(cut and paste the valentines with words under the right kitten depending on a word family)
what you'll practice:
word families AT+AD, AN+AG, AP+AB, OG+OT, ELL+ET, IG+ILL, IN+IT, UG+UN
ATE+AKE, ANE+AVE, OLE+ONE, ICE+IDE, ILE+INE, OSE+long U
Find and Highlight
(find the words of a certain word family and highlight them)
what you'll practice:
word families AT, AD+AP, AG+AN, AB+AM, OG+OT, ELL+ET, IG+ILL, IN+IT, UG+UN
ACE+AKE, ATE+AVE, ONE+OSE, ICE+ILE, IDE+INE, long U
Spy Words
(find, read and color objects only with words of a certain word family)
what you'll practice:
short a, o, e, i, u
long a, o, i, u
Color Words
(color words in the hearts)
what you'll practice:
word families at, og, ab, et, in, ug
ake, one, ile, ace, ose, ice