Need an engaging way to practice CVC and CVCe words? Use the PAPERLESS word builder. Perfect for Google Slides and Google Classroom. Kids will ask for these games over and over!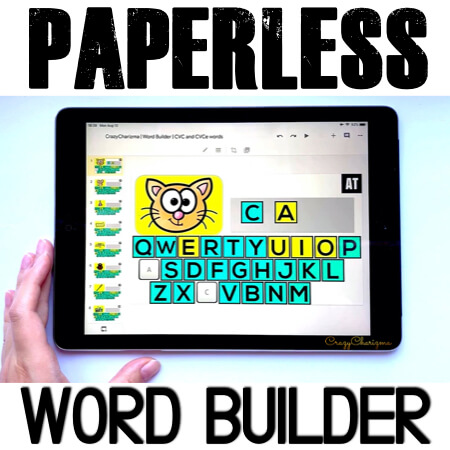 What CVC words are practiced?
Short A
cat, rat, hat, mat, bat, fat, bat
lab, tab, dab, cab
sad, bad, pad, mad, dad
bag, rag, wag, tag
jam, ham, dam, ram
ran, fan, tan, man, can, van, pan
tap, sap, lap, nap, cap, gap, map
Short E
wed, red, bed, fed
leg, peg, keg
hen, ten, den, men, pen
pet, met, wet, jet, set, wet, net
Short I
bib
zig, wig, fig, dig, pig, big
win, pin, fin, tin, bin
tip, sip, rip, hip, lip, dip
lit, sit, pit, kit, hit, bit
Short O
rob, sob
rod, pod, cod
jog, hog, fog, dog, log
top, pop, hop, pop, mop, cop
dot, pot, rot, tot, cot
fox, box
Short U
tub, sub, rub
mud, bud
mug, hug, jug, bug, pug, rug
gum
sun, run, nun, fun, gun, bun
pup, cup
nut, hut, cut
What CVCe words are practiced?
Long A
face, lace, race
page, cage, rage, wage
wake, rake, bake, make, cake, lake
tale, sale
same, tame, name, game, fame, came
lane, cane
tape, cape
vase, base, case
mate, late, date, gate
save, pave, cave, wave
Long I
rice, dice, mice
wide, tide, side, ride, hide
hike, like, bike, mike
tile, mile, file, pile
time, mime, lime, dime
vine, pine, mine, nine, line, dine
wipe, ripe, pipe
wire, tire, fire
bite, kite
hive, five, dive
Long O
robe
code, rode
pole, hole, mole
woke, joke
home, dome
zone, bone, cone
rope
rose, nose, dose, pose, hose
vote, note
Long U
cube, tube, huge, mule, fume, tune, dune, fuse, mute, cute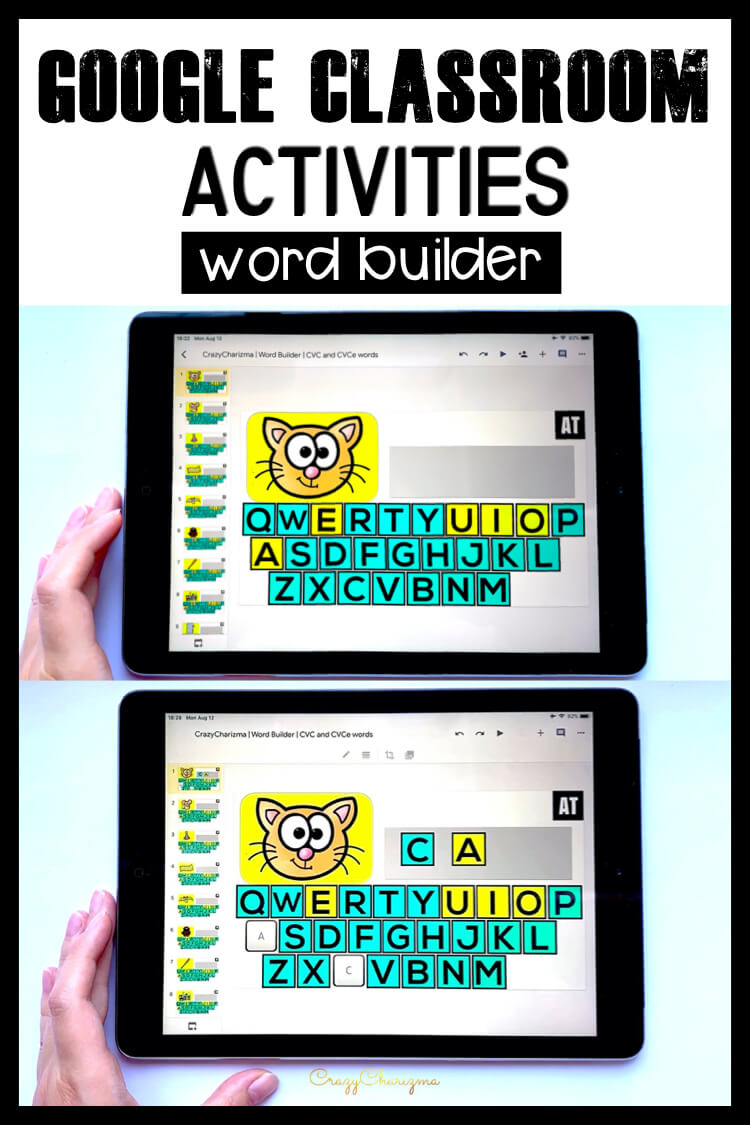 Google Classroom Activities set includes:
Teacher Notes pdf (with the link and directions to access Google Slides)
232 interactive slides with moveable pieces
These paperless activities can be used on Chromebooks, Android Tablets, iPads, laptops, smart boards and other devices. The games are perfect for kids in kindergarten, first grade, and second grade. All the slides work and can be used interactively ONLY IN EDIT MODE!
Want to wishlist this set? Pin for later.
Got questions about Google Classroom? Check out these posts.