It's difficult to get ESL students speak. I'll help you with lots of conversation cards. Practice both grammar and speaking because cards cover "Would you rather?", "Have you ever?", Conditionals questions and much more. Build students' conversational confidence in an exciting way!
Number of pages: 130
Grade Levels: 6th, 7th, 8th, 9th, Adult Education, Homeschool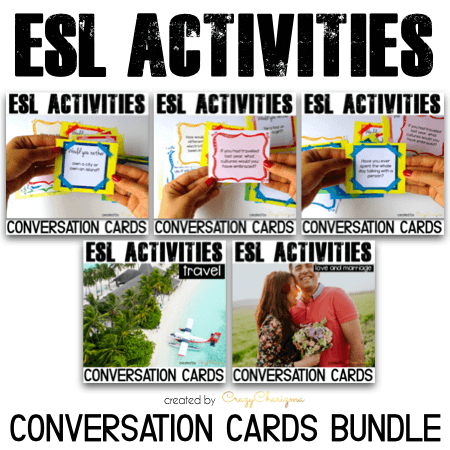 WHAT SETS WILL YOU GET:
Take a look at some feedback* for this packet:
This was a fun, interactive way to help my special education students work on their social skills. Thanks!
Great questions. I use these with my intellectually disabled high school students to spark conversation and work on eye contact, volume, etc.
Perfect for my adult ESOL students! Thank you!
Perfect addition to my morning table talk questions.
So perfect for my grade 6 intensive English students! Nice work!
This is a great set of questions to allow students to think about topics they might not normally think about. It is a fun way for ELL's to practice language skills. The variety that you have provided in this set is excellent.
Love these conversation starters. I will use these as warm ups and also to fill those pesky few minutes that are sometimes left in class.
These cards are great! I love the variety of questions that are provided and the many "how to use" suggestions that come with the packet. They can be used with a variety of ages, and situations-from creative writing, to ice breaker type of activities and more.
Such a great product!! Used this as an icebreaker with my high school students and they loved it. Thank you!
So many questions/prompts included in this unit! I love the idea of using these as debate prompts! Perfect for any classroom, thanks!
I used these in my Adult ESL class to promote group English Conversation.
Taken from my TeachersPayTeachers store.
See the cards in action
This packet contains 450 discussion cards. They are perfect to use as writing prompts too. Practice speaking (Would you rather?, Travel, Love) and grammar topics (Present Perfect, Conditionals: zero, first, second, third, mixed type). The cards are available in color and black and white versions as well.
You can use this packet in multiple ways:
warm up activity

morning meeting questions

morning message

speaking and listening activity

writing prompts

for early finishers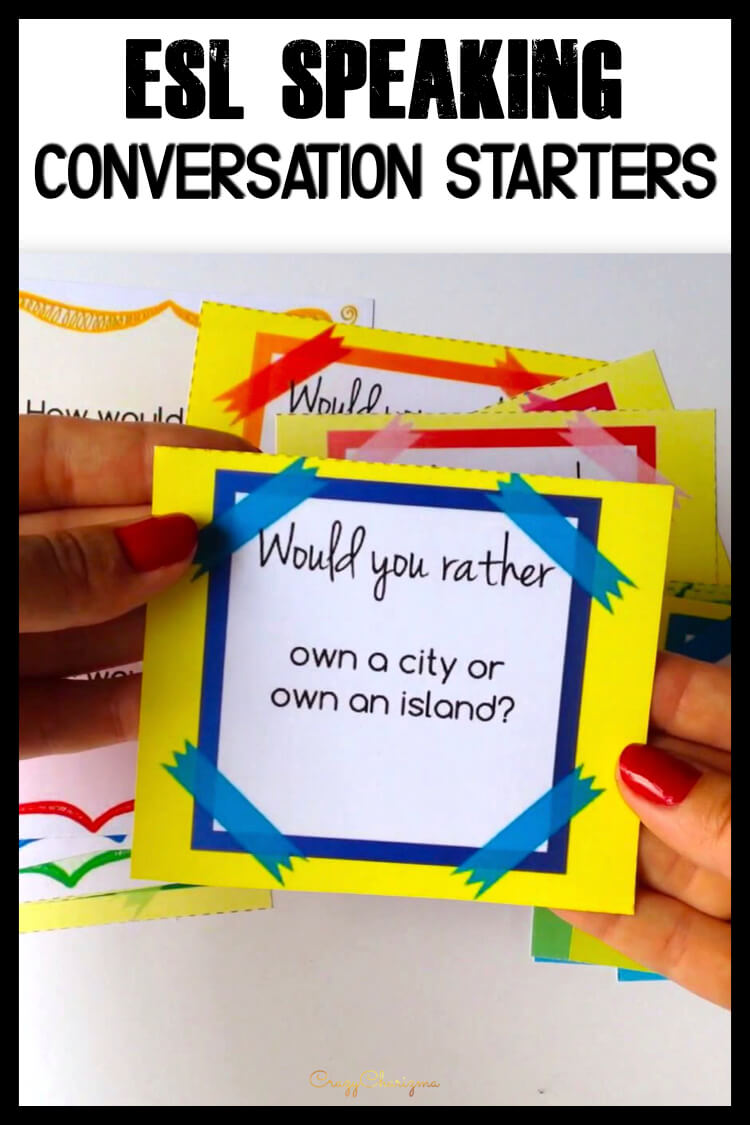 Please pin this for later or share.