Introducing the ENDLESS BUNDLE! Immerse your students in the captivating world of the Science of Reading with our wide range of centers and activities. From letter names and sounds to high-frequency words, CVC words, blends and digraphs, CVCe words, bossy R, and vowel teams – our comprehensive collection covers it all! This incredible bundle is a goldmine for educators, offering over 3000 pages of valuable practice resources.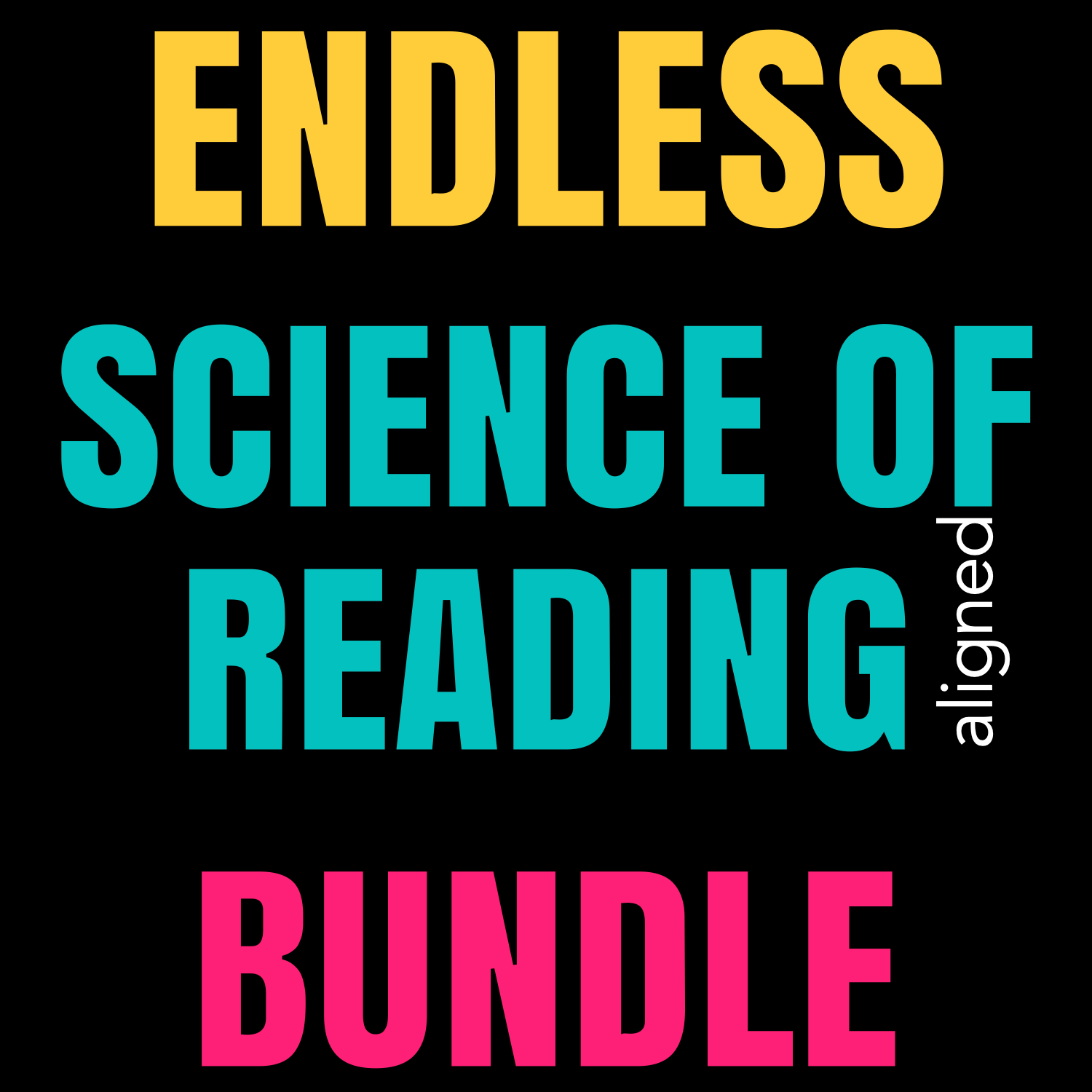 Prefer TPT? Buy this bundle on TPT (it's identical).
Content
The number of pages: 3177 and GROWING
Common Core Standards: RF.K.1D, RF.K.2, RF.K.2a, RF.K.2b, RF.K.2c, RF.K.2d, RF.K.3, RF.K.3a, RF.K.3b, RF.K.3c, RF.K.3d, RF.1.2, RF.1.2a, RF.1.2b, RF.1.2c, RF.1.2d, RF.1.3, RF.1.3a, RF.1.3b, RF.1.3c, RF.1.3g, RF.2.3, RF.2.3a, RF.2.3b, RF.2.3e, RF.3.3
Product Reviews
⭐️⭐️⭐️⭐️⭐️ "What a deal this is! You will have everything you need to teach reading. Letters, letter sounds, CVC words, digraphs, blends (who knew there were that many blends!?!), silent e, magic e, heart words, & CVC games. My students have grown so much using these materials. A great resource that will enhance your reading instruction."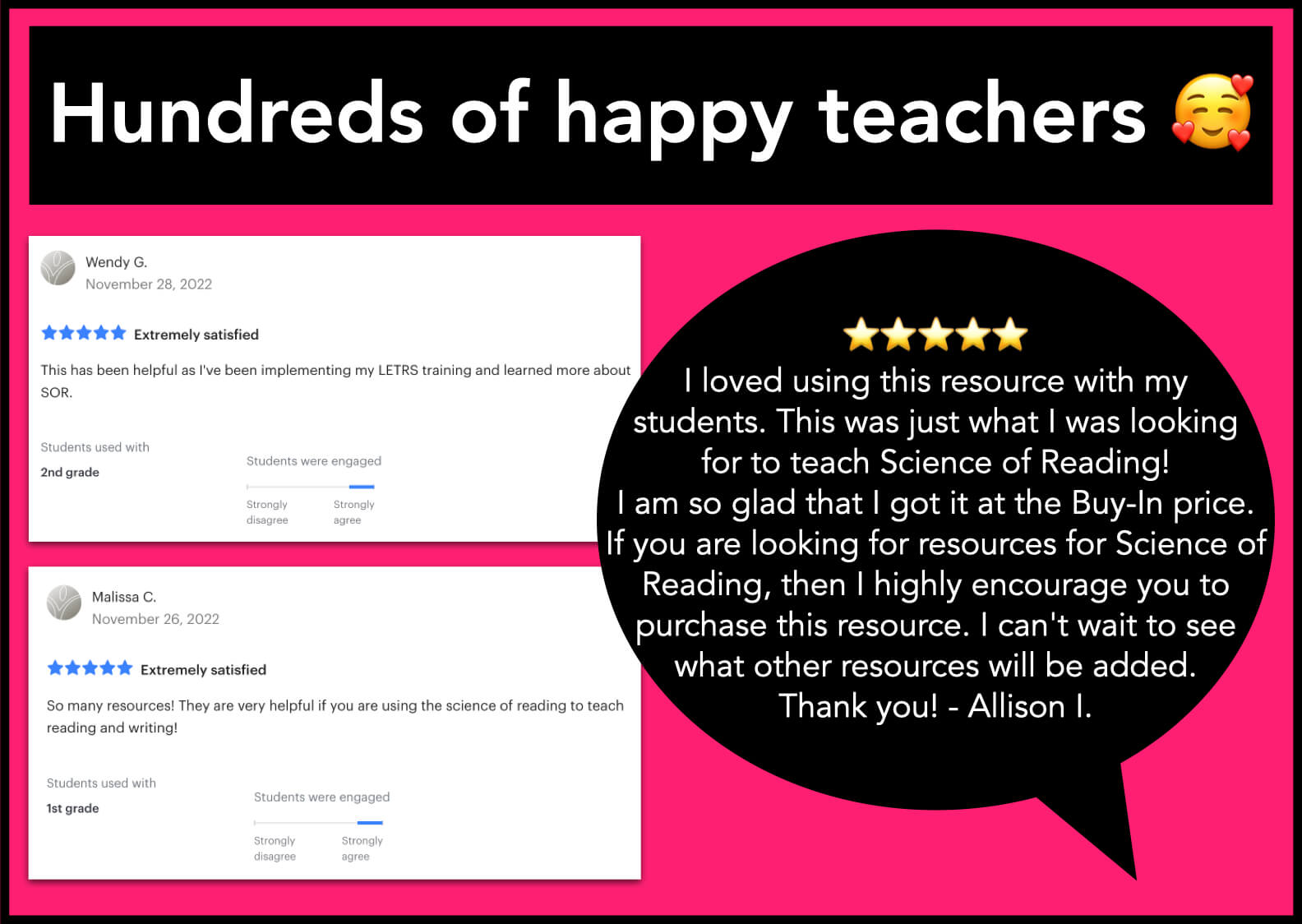 ⭐️⭐️⭐️⭐️⭐️ "Helpful resources with differentiation for students needs..."
⭐️⭐️⭐️⭐️⭐️ "This is a great resource for beginning readers. They were very engaged and enjoyed completing the activities."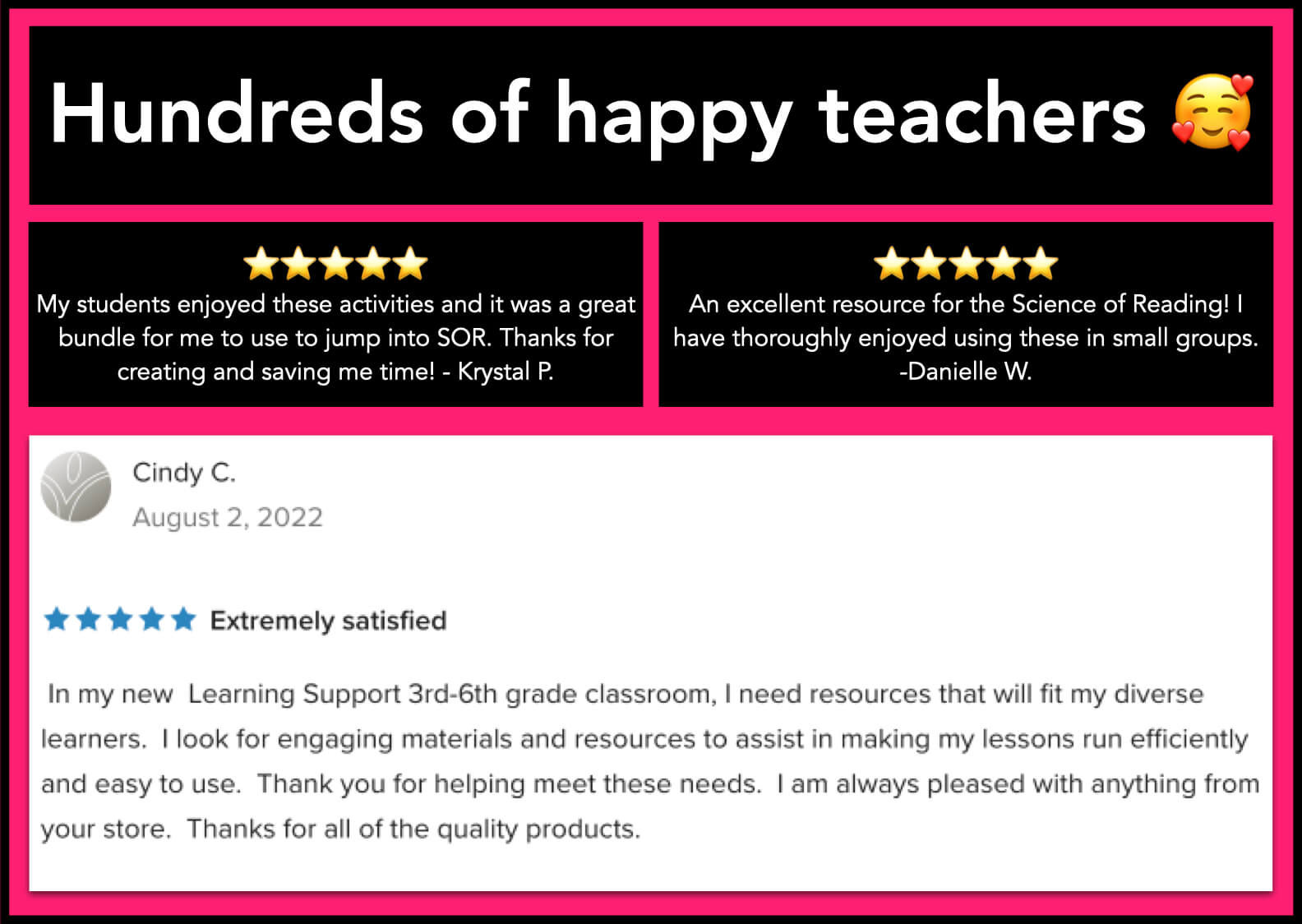 ⭐️⭐️⭐️⭐️⭐️ "Very thorough."
⭐️⭐️⭐️⭐️⭐️ "Lots of activities for learning. I like how you include different variations of sound wall prep."
Product Preview - Look inside
UNIT 0 Sound Wall
This sound wall includes everything you need to support students as they transition from speech to print. The sound wall is based on the Science of Reading and supports explicit instruction with phonemes. All 44 phonemes are included!
Find inside:
3 versions of SOUND WALL you can use in your classroom;
student sound walls (mini portable): you can use them in a writing folder, set up as a file folder resource, or keep on hand as a reference sheet.
Also, I've included words (graphemes) for every sound (phoneme). Graphemes listed under each image are organized by their frequency in English.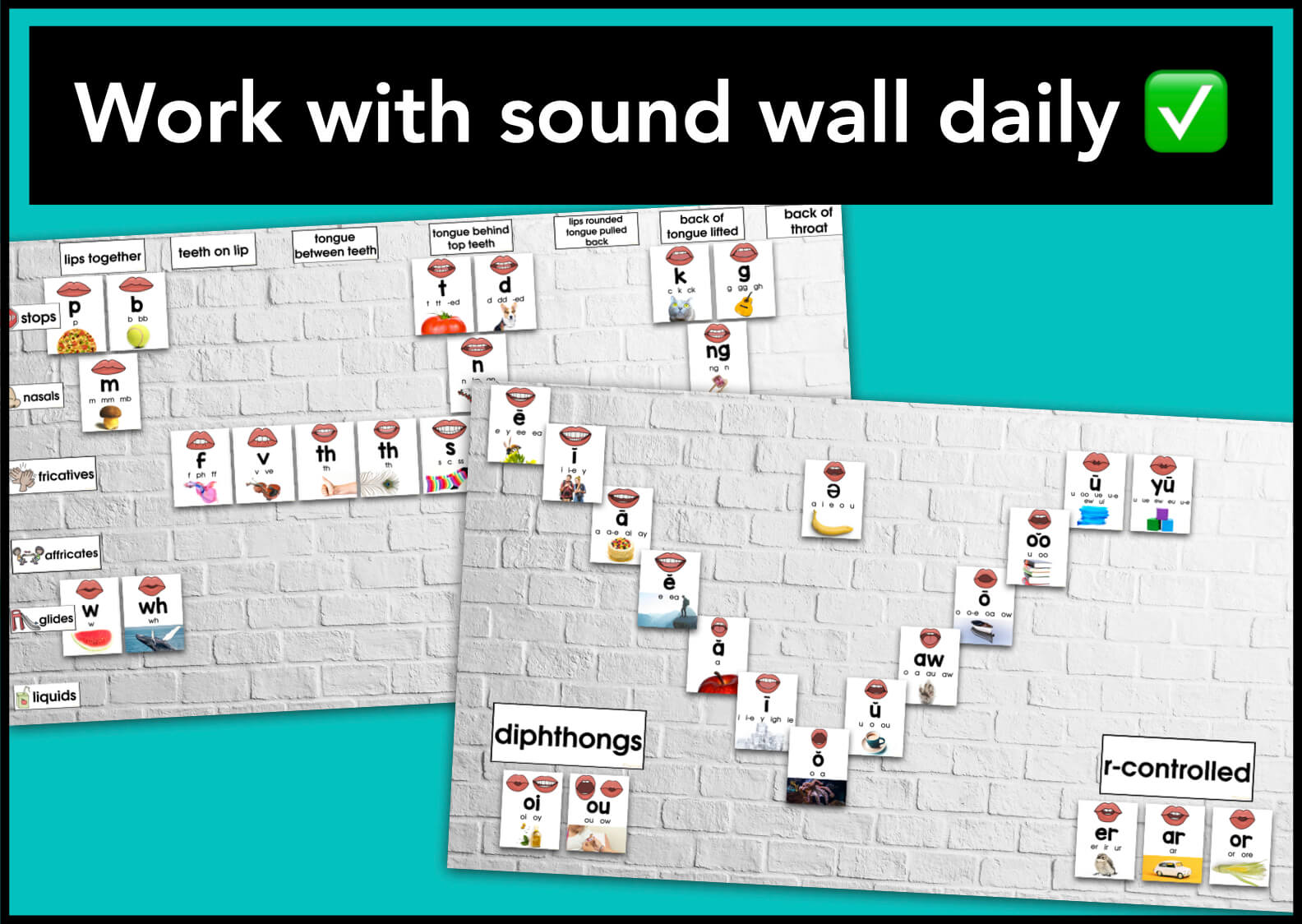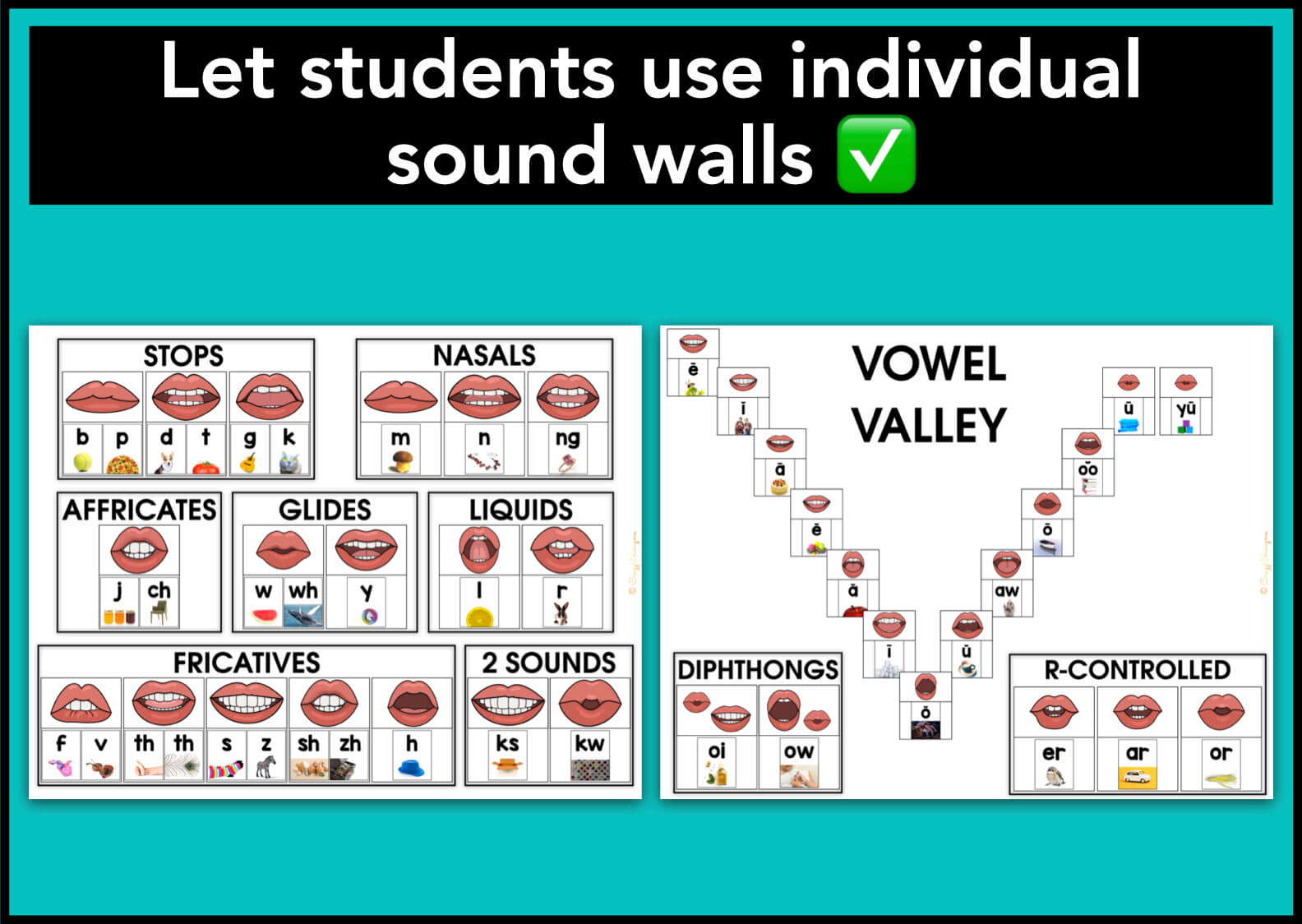 The sound wall cards all have real-life photos and mouth formation images:
students see how to form the sounds;
you can use these visuals when you wear a mask during instruction;
kids use them as a reference during small group;
real-life photos make this word wall not only beautiful to look at but also very engaging for the students.
Learn more about Sound Walls and how to use them here.
UNIT 1 Letters and Sounds
Alphabet (letter formation and recognition)
This is a mini-bundle about all things ALPHABET. Kids will practice letter formation and letter recognition in many hands-on ways, as well as using worksheets.
Find inside:
alphabet books
alphabet clip cards
alphabet mats
alphabet noprep worksheets
alphabet puzzles
alphabet tracing
alphabet with popits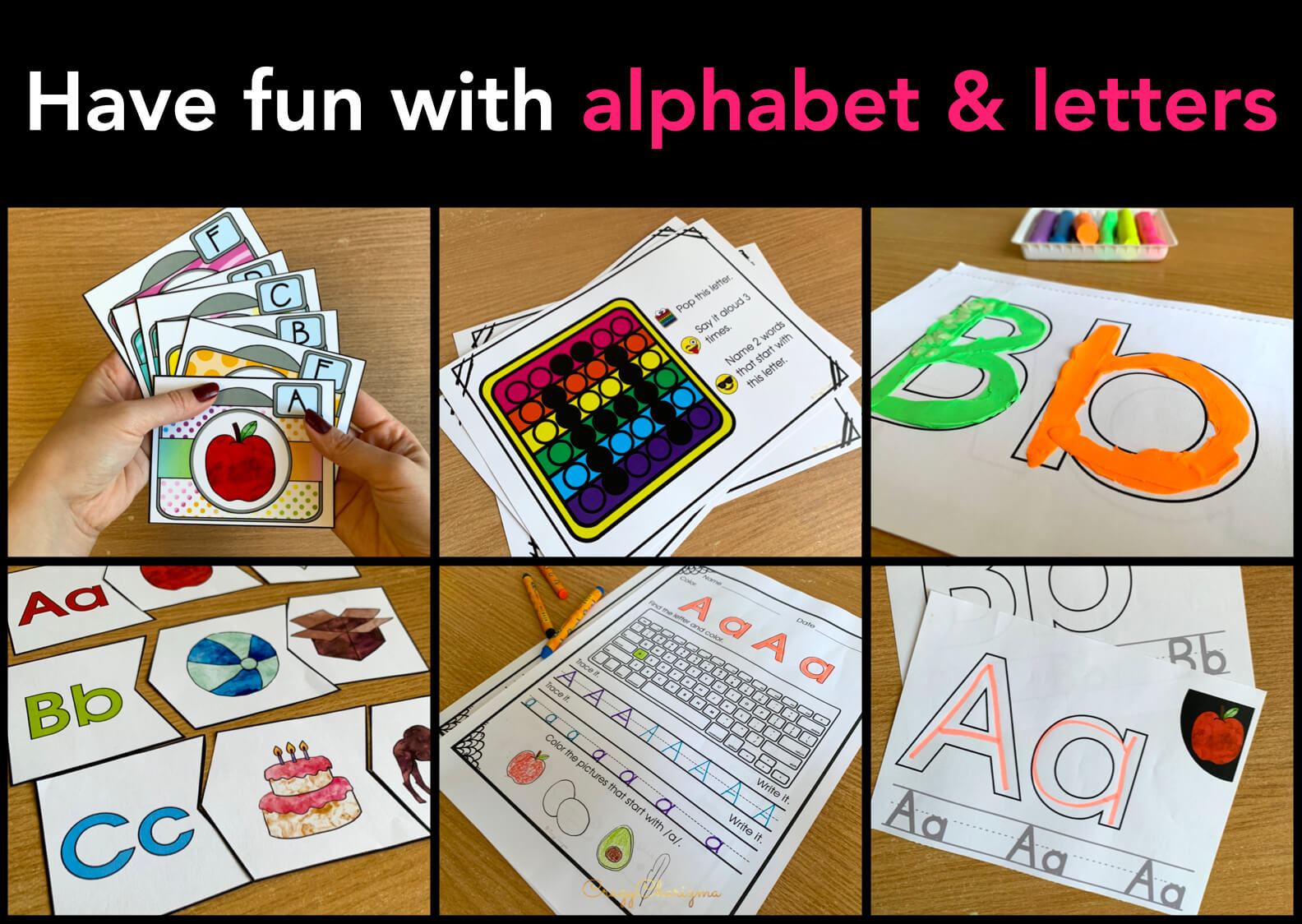 Beginning Sounds
This huge set has everything you need to practice beginning sounds!
beginning sounds with popits
beginning sounds cut and paste
beginning sounds mouth formation cards
beginning sounds sort
beginning sounds search
I Spy beginning sounds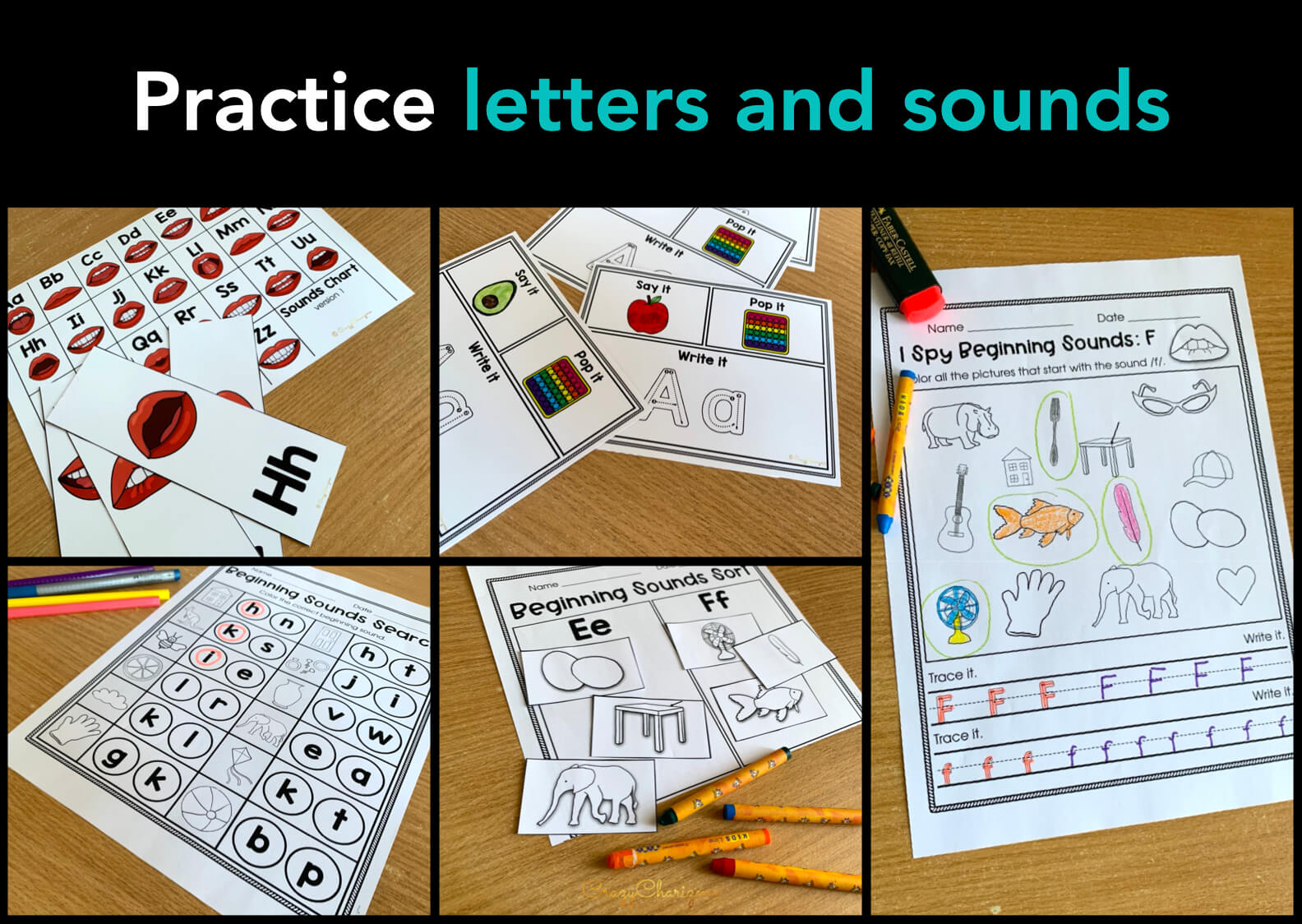 UNIT 2 High-Frequency Words
Practice 220 DOLCH WORDS in a fun way! These pages include orthographic mapping activities to practice words in a meaningful way. You can use this set as interactive notebook pages or no prep worksheets.
See what High-Frequency Words are practiced in the List of Words.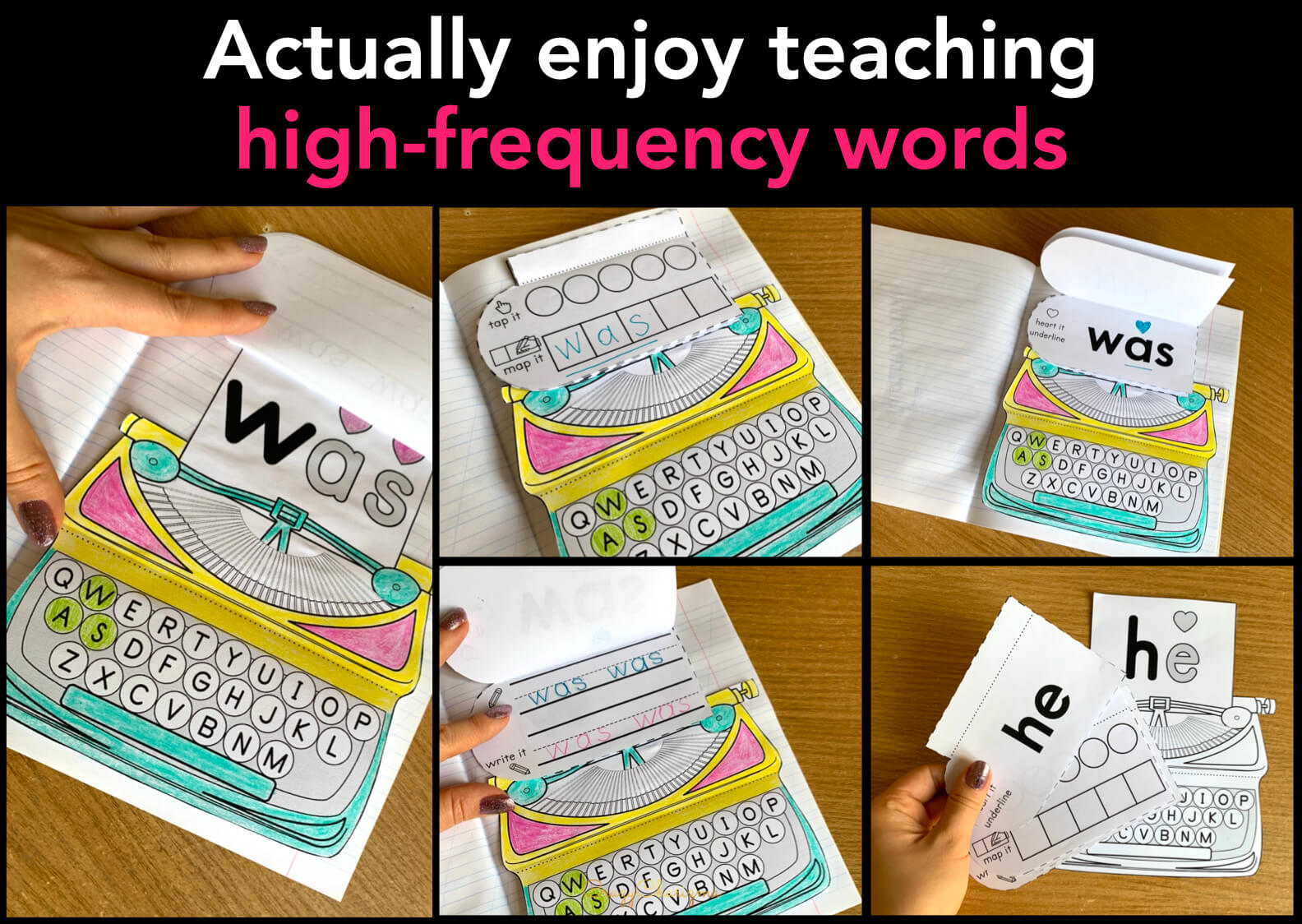 UNIT 3 CVC Words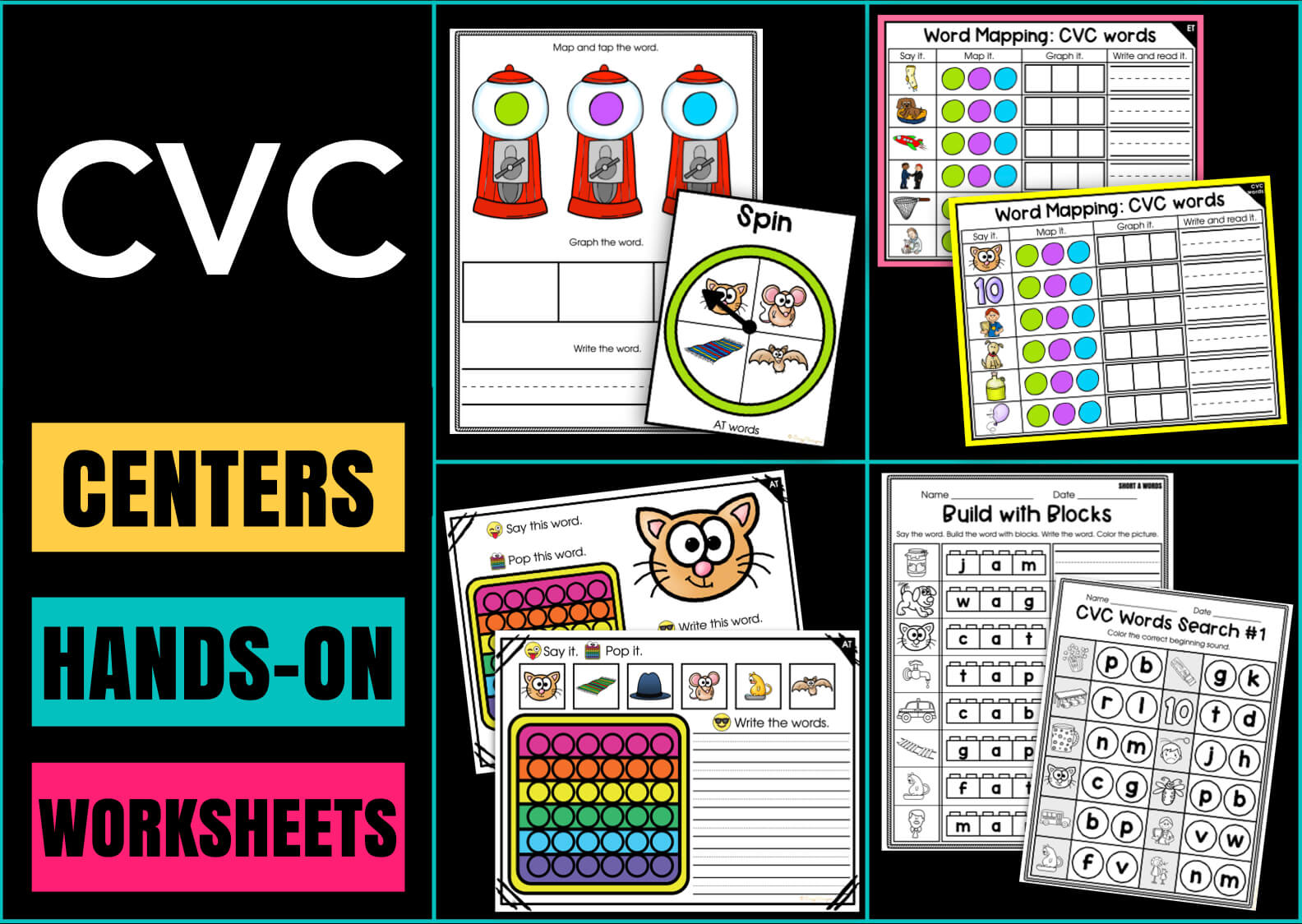 Check out 2 absolutely amazing centers to practice CVC words. Kids will practice word mapping of CVC words in a hands-on way with pianos and gumball machines (see the preview!). With these engaging activities, you'll be able to practice short A, E, I, O, U CVC words.
These are perfect hands-on activities to practice almost every CVC word (see the list of words below) with popits and with word mapping mats.
Practice CVC words with these engaging no prep worksheets! There is no need to search for what worksheets to use if you want to practice CVC words with kids. Just grab these worksheets (Science of Reading Aligned) and start practicing.
See what CVC words are practiced in the List of Words.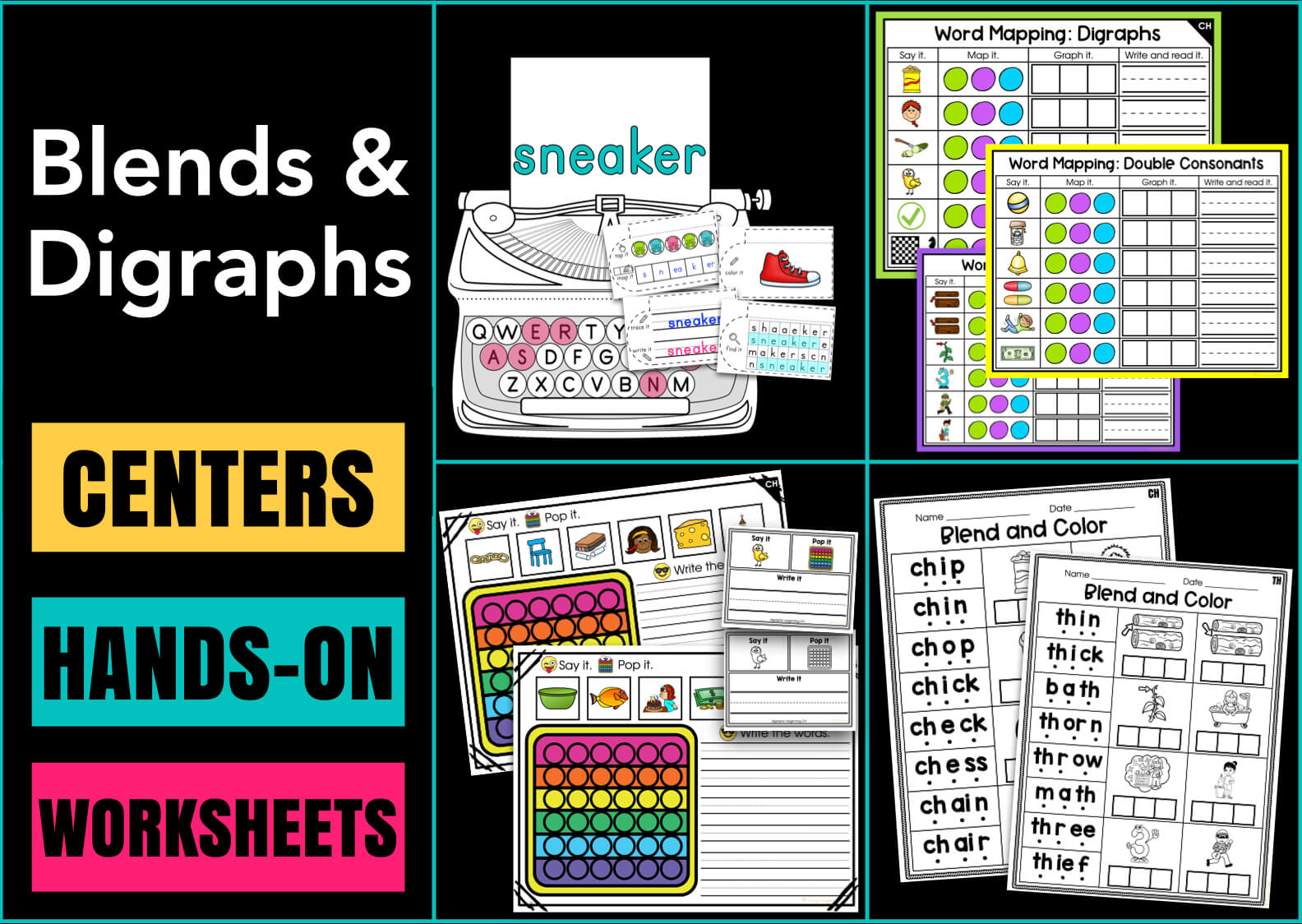 UNIT 4 Digraphs
Set 8 - Digraphs Hands-on Centers
These are perfect hands-on activities to practice consonant digraphs and double consonant words (floss rule) with popits (see the list of words below).
Set 9 - Digraphs Centers and Worksheets
Practice digraphs and double consonants with word mapping mats and no prep worksheets.
See what Digraphs words are practiced in the List of Words.
UNIT 5 Beginning Blends
Set 10 - L Blends activities
Set 11 - S Blends activities
Set 11 - R Blends activities
Practice BLENDS in a fun way! Practice blends in a meaningful way: type the word, tap it, map it, trace it, write it, color the corresponding image, find the words in the word search, and make a sentence with the word. You can use this set as interactive notebook pages or no prep worksheets.
See what Beginning Blends words are practiced in the List of Words.
UNIT 6 CVCe Words
Clipcards
I Spy Activities
Word Ladders
Roll, Read, and Color
Practice CVCe words with fun colorful and ink-friendly pages!
See what CVCe words are practiced in the List of Words.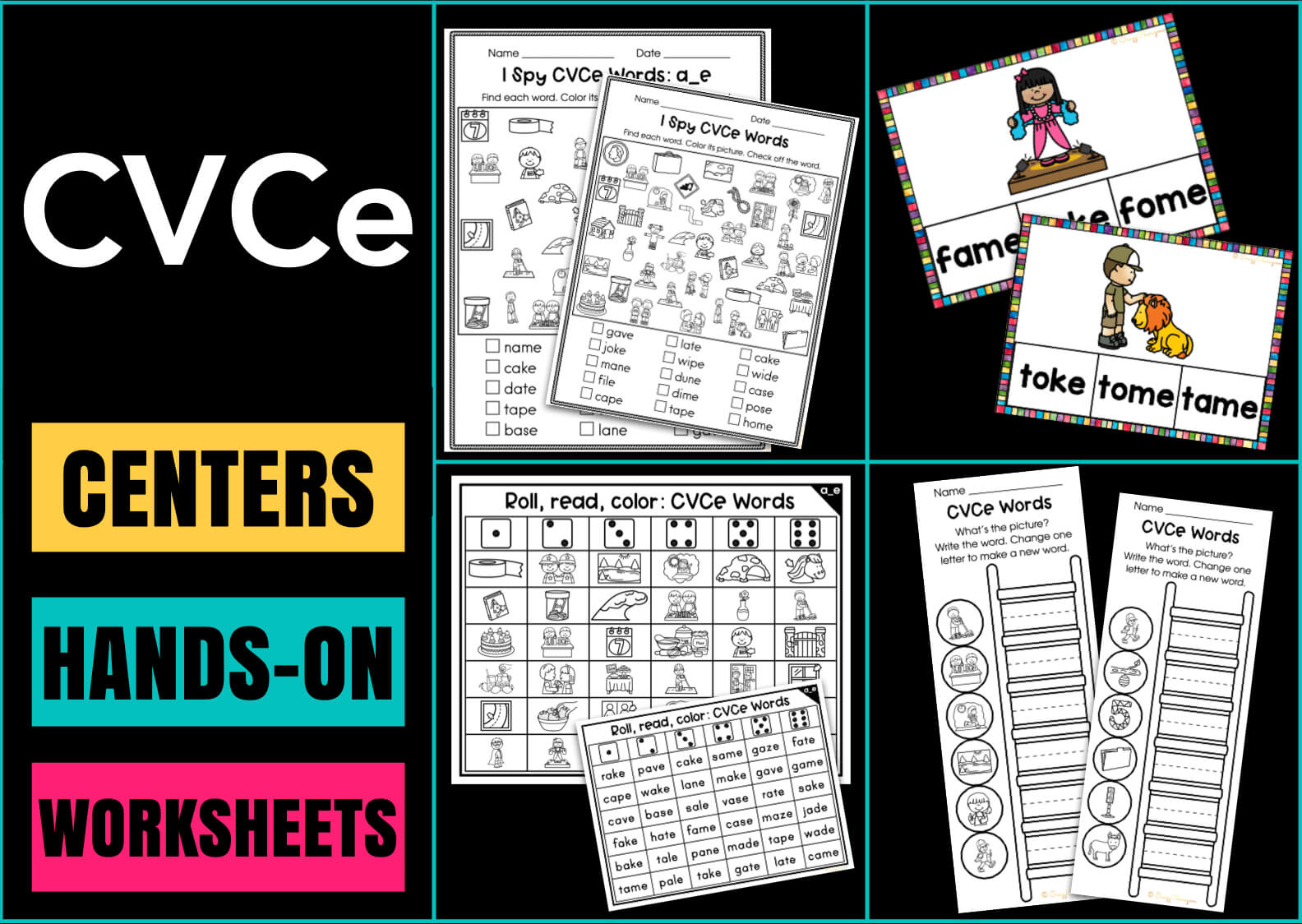 UNIT 7 Ending Blends and R-Controlled Vowels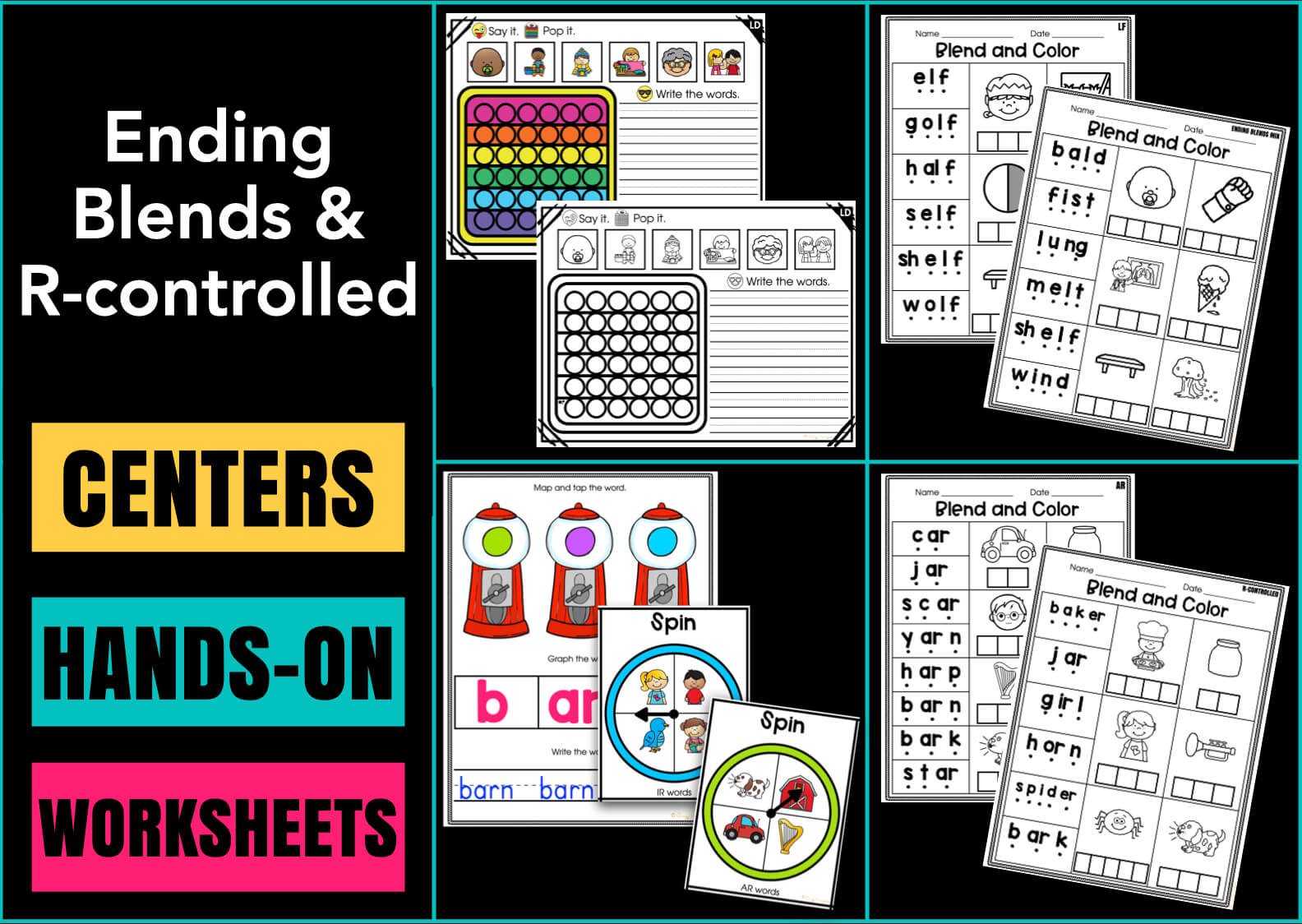 Ending Blends
Ending Blends Popits
These are perfect hands-on activities to practice ending blends and glued sounds (NG, NK) with popits (Science of Reading aligned). Use these centers over and over.
Ending Blends Worksheets
Practice blending and reading of ENDING BLENDS and GLUED SOUNDS words with no prep worksheets. Fun, engaging, and effective. Kids will practice ending blends L, S, N, and glued sounds NG, NK in a fun way.
R-Controlled Vowels
R-Controlled Vowels Centers
Looking to teach r-controlled vowels to your students? Our engaging bossy R centers, which are Science of Reading aligned, are just what you need. Help your students become fluent readers with fun orthographic mapping activities!
R-Controlled Vowels Worksheets
Grab R-controlled vowels worksheets designed to capture the attention of kids and keep them engaged while they learn. These bossy R worksheets offer a fun and effective way for young learners to improve their reading and spelling skills. Perfect for making learning a fun and rewarding experience!
See what Ending Blends, Glued Sounds, R-Controlled Vowels words are practiced in the List of Words.
UNIT 8 Vowel Teams and Diphthongs
Vowel Teams and Diphthongs Sorting Activities
Master vowel teams and diphthongs with engaging worksheets featuring sorting activities! Our comprehensive pack is designed to make learning fun and interactive. Help your students strengthen their phonics skills today!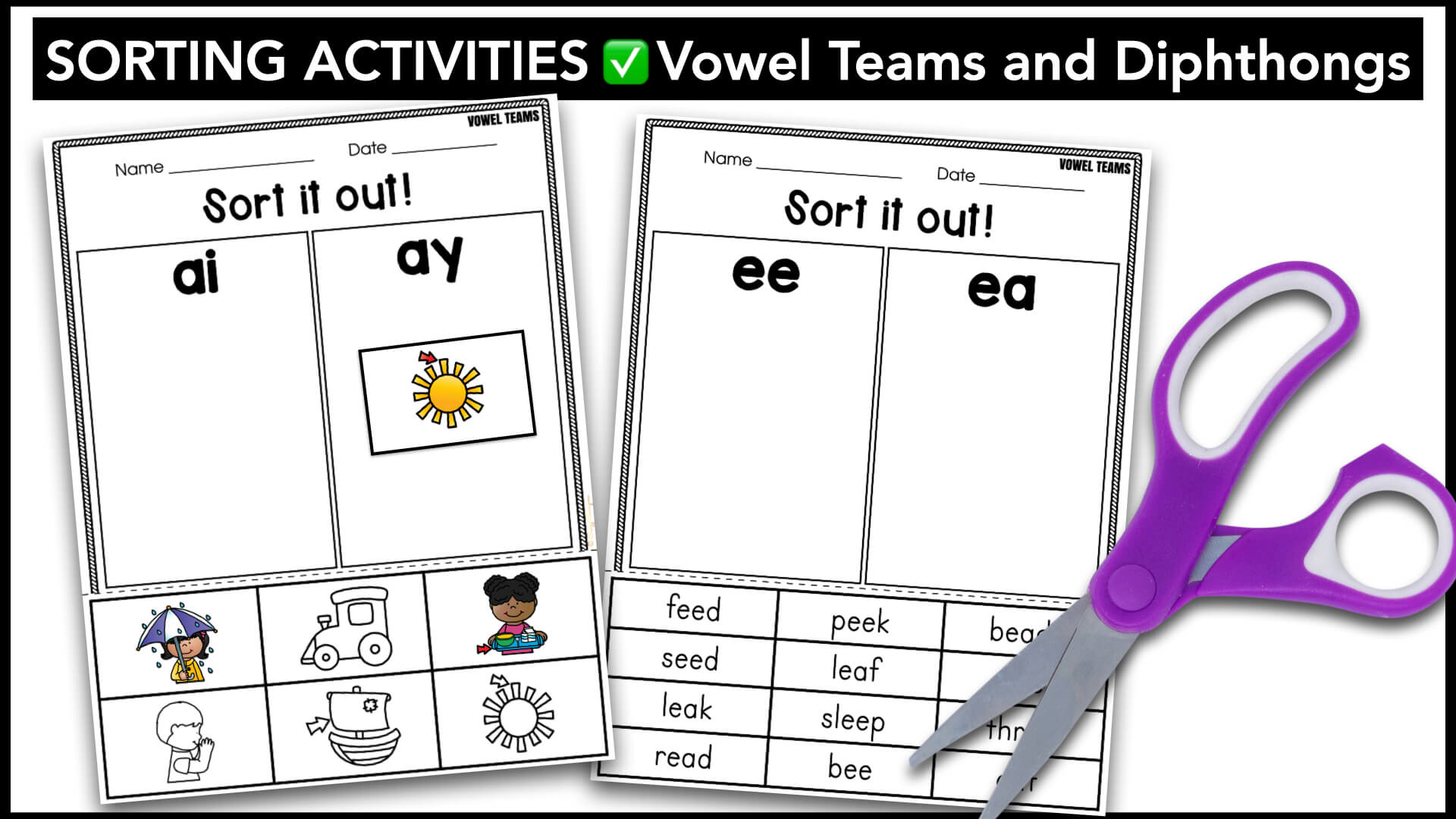 Vowel Teams and Diphthongs Word Mapping Mats
Enhance phonics skills with our Vowel Teams and Diphthongs Word Mapping Mats! These engaging mats provide a hands-on approach to learning vowel teams and diphthongs. Students can map out words, identify patterns, and build a strong foundation in phonics. Perfect for individual or group activities, these mats make learning interactive and fun. Strengthen your students' reading and spelling abilities today!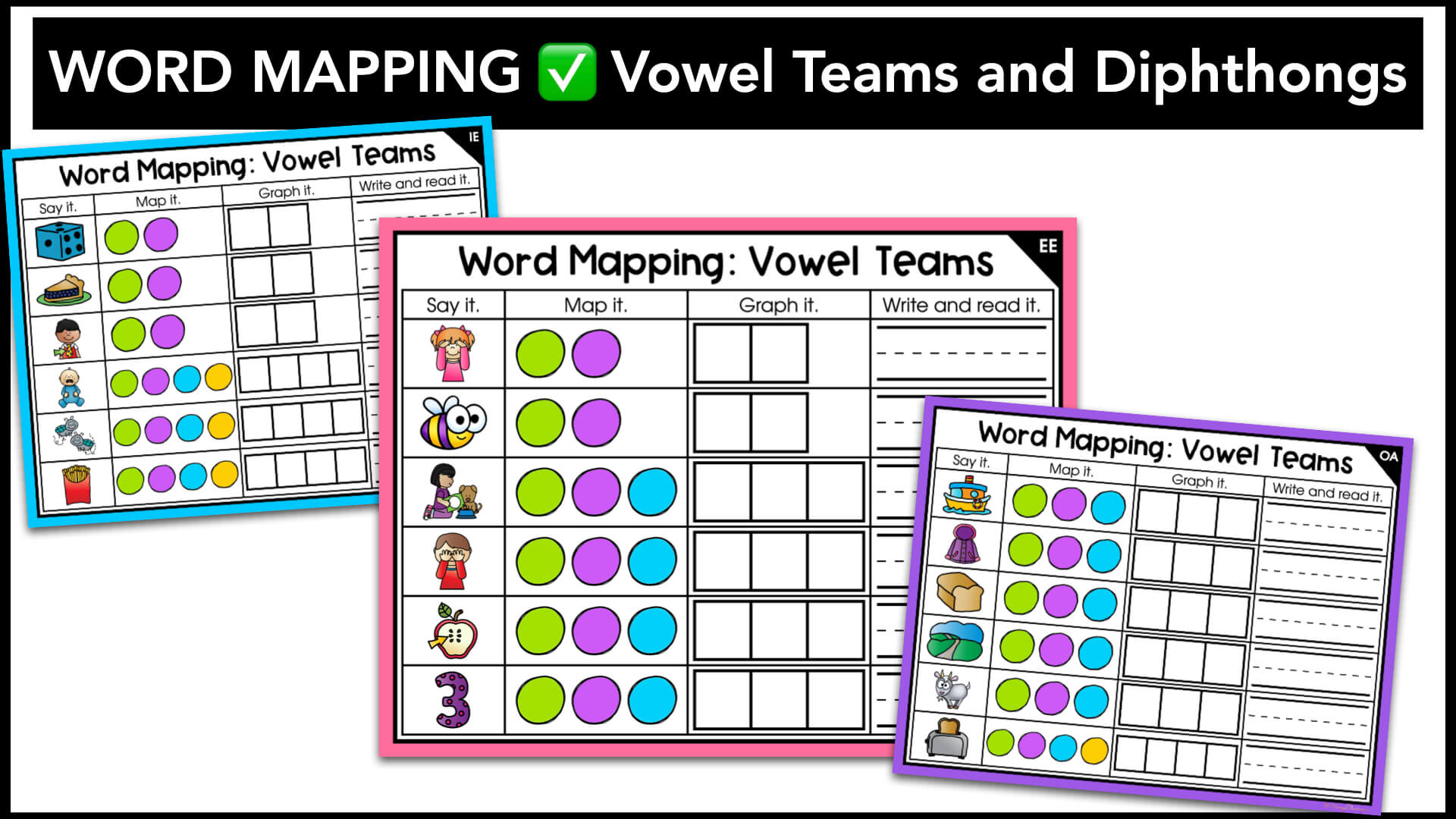 See what Vowel Teams and Diphthongs words are practiced in the List of Words.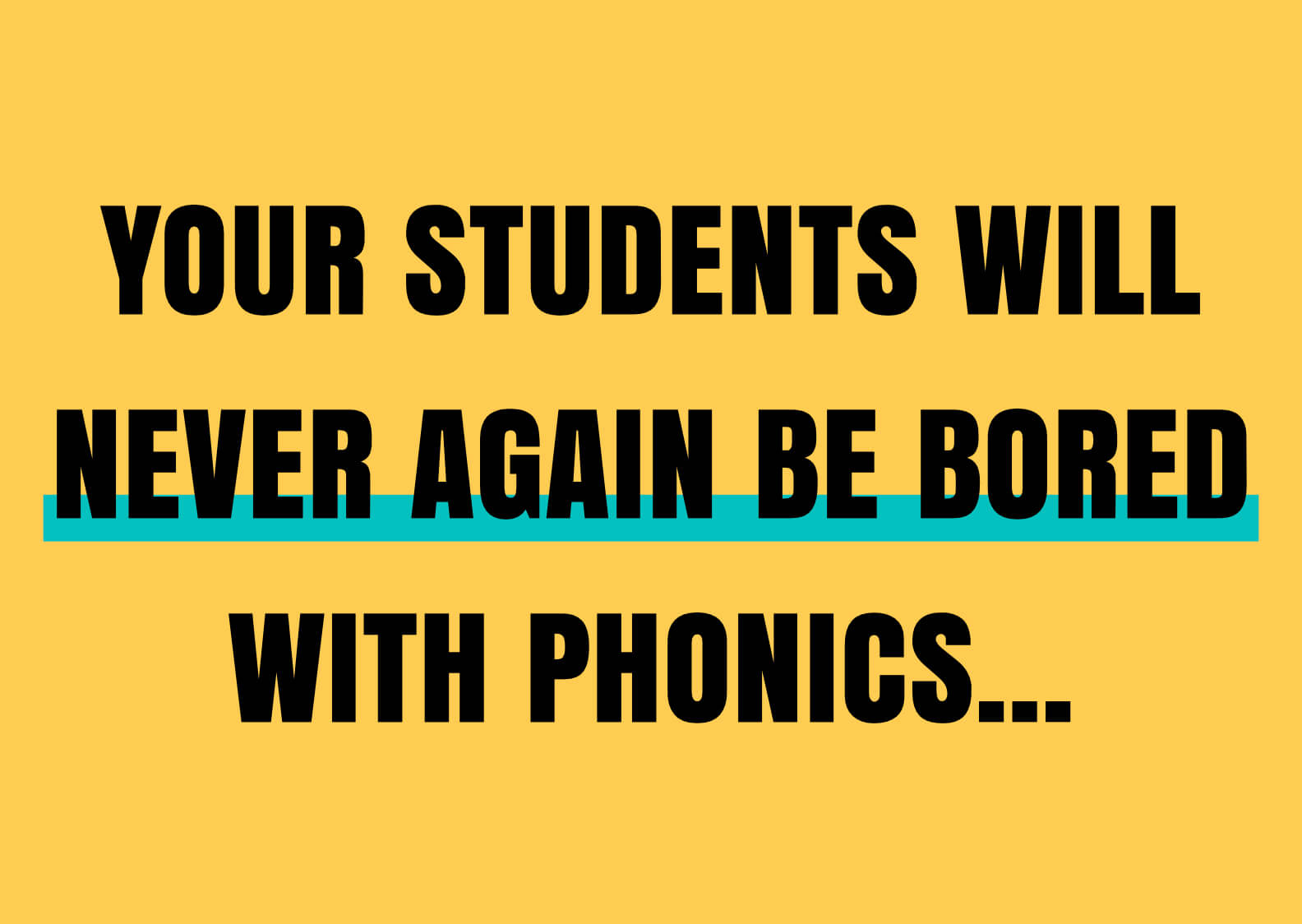 List of Words
The following words are practiced in this bundle.
High-Frequency Words (Unit 2)
Pre-Primer list: the, to, and, a, I, you, it, in, said, for, up, look, is, go, we, little, down, can, see, not, one, my, me, big, come, blue, red, where, jump, away, here, help, make, yellow, two, play, run, find, three, funny
Primer list: he, was, that, she, on, they, but, at, with, all, there, out, be, have, am, do, did, what, so, get, like, this, will, yes, went, are, now, no, came, ride, into, good, want, too, pretty, four, saw, well, ran, brown, eat, who, new, must, black, white, soon, our, ate, say, under, please
First grade list: of, his, had, him, her, some, as, then, could, when, were, them, ask, an, over, just, from, any, how, know, put, take, every, old, by, after, think, let, going, walk, again, may, stop, fly, round, give, once, open, has, live, thank
Second grade list: would, very, your, its, around, don't, right, green, their, call, sleep, five, wash, or, before, been, off, cold, tell, work, first, does, goes, write, always, made, gave, us, buy, those, use, fast, pull, both, sit, which, read, why, found, because, best, upon, these, sing, wish, many
Third grade list: if, long, about, got, six, never, seven, eight, today, myself, much, keep, try, start, ten, bring, drink, only, better, hold, warm, full, done, light, pick, hurt, cut, kind, fall, carry, small, own, show, hot, far, draw, clean, grow, together, shall, laugh.
CVC Words (Unit 3)
SHORT A WORDS
AT words: cat, rat, mat, bat, hat, fat, sat, bat
AM words: jam, ram, ham, dam, mam, yam
AN words: man, van, pan, ran, can, fan, tan
AP words: tap, cap, sap, map, lap, nap, gap
AB words: cab, tab, lab, dab
AD words: dad, sad, mad, bad
AG words: wag, tag, rag, bag, sag, hag
SHORT E WORDS
ET words: vet, jet, pet, net, met, wet, set
EN words: ten, den, hen, pen
ED words: red, bed, fed, wed
EG words: leg, keg, beg, peg
SHORT I WORDS
IN words: pin, fin, tin, bin, win, kin
IT words: hit, sit, kit, bit, pit, fit, pit, lit
IP words: lip, hip, sip, dip, tip, rip, zip
IG words: wig, pig, dig, rig, fig, big
Misc I words: bib, lid
SHORT O WORDS
OG words: dog, log, hog, fog, jog, cog
OT words: dot, rot, hot, pot, tot, jot, cot, lot
OP words: cop, pop, hop, mop, pop, top
Misc O words: rob, sob, cob, rod, pod, cod
SHORT U WORDS
UG words: bug, mug, jug, rug, hug, tug, dug, pug
UB words: tub, cub, sub, rub
UN words: sun, gun, bun, nun, fun, run
Misc U words: mud, bud, cup, pup, hut, nut, cut, gum, mum, bus
Digraphs and Double Consonants (Unit 4)
CH digraph: chip, chin, chop, chick, check, chess, chain, chair, chalk, cheek, cheese, church, chest, cherry, chili, chocolate; rich, inch, peach, torch, lunch, bench, pouch, couch
SH digraph: ship, shop, shin, shed, shell, shark, sheep, shirt, shelf, shoe, shovel, shrimp; dish, fish, wish, cash, bash, bush, wash, trash, brush, crash, leash, raddish
TH digraph: thin, thick, thorn, three, thief, throw, think, thumb, throne, thread, thermos, thermometer; bath, math, moth, path, tooth, teeth, cloth, sloth, mouth, earth, wreath
CK digraph: neck, lock, sick, duck, puck, sock, check, rack, brick, thick, black, crack, quack
WH digraph: whale, wheat, wheel, whisk, whisker, whistle
PH digraph: photo, phone, graph, trophy, dolphin, elephant, gopher
Double consonants: ff: puff; zz: buzz; ss: kiss, mess, chess, glass, grass; ll: roll, ball, well, pill, bell, fell, bill, yell
Beginning Blends (Unit 5)
L Blends
BL (black, blanket, bleach, blender, blimp, blindfold, blizzard, block, blood, blot, blow, blowfish, blue, blueberry, blush);
CL (clam, clap, claw, clean, cliff, climb, clip, cloak, clock, clothes, cloud, clover, clown, club, clue);
FL (flag, flake, flame, flamingo, flashlight, flat, flea, flick, flipflops, float, flood, floor, floss, flower, flute, fly);
GL (glacier, glad, gladiator, glass, glasses, glide, glitter, glob, globe, gloomy, gloss, glove, gloves, glow, glue);
PL (plan, plane, planet, plank, plant, plate, platypus, play, playground, plow, plug, plum, plumber, plus).
S Blends
SC (scale, scalp, scan, scar, scarecrow, scarf, school, scientist, scone, scoop, scooter, score, scorpion, scuba, sculpture);
SK (skate, skateboard, skeleton, sketch, ski, skillet, skin, skip, skirt, skull, skunk, sky, skydiving, skyscraper);
SL (slam, slap, sled, sleep, sleeve, sleigh, slice, slide, slime, sling, slip, slipper, slit, slope, slot, slug);
SM (smack, small, smart, smash, smell, smile, smirk, smock, smog, smoke, smooch, smooth, smoothie, smore, smug);
SN (snack, snag, snail, snake, snap, sneak, sneaker, sneeze, sniff, snip, snore, snorkel, snout, snow, snowflake, snug);
SP (spa, space, spaceship, spade, spatula, spell, spices, spider, spill, spin, spinach, sponge, spoon, sport, spot, spout, spray, spy);
ST (stable, stack, stain, stairs, stake, stamp, stapler, star, steam, stem, stew, sting, stinger, stir, stool, stop, store, storm, stove, student, stump);
SW (swab, swamp, swan, swarm, swat, sway, sweat, sweater, sweep, sweets, swim, swing, swipe, swirl, switch).
R Blends
BR (bracelet, braces, brad, braid, brain, branch, brave, bread, break, breakfast, brew, brick, bride, bridge, brim, broccoli, bronze, broom, broth, brown, brush);
CR (crab, crack, craft, crane, crash, crawl, crayon, cream, credit, crib, crocodile, crop, cross, crow, crown, crumbs, crust, cry);
DR (drag, dragon, dragonfly, drain, draw, dream, dreidel, dress, dribble, drill, drink, drip, drive, drone, drop, drum, dry);
FR (frame, France, freckles, freezer, fridge, friend, fries, frisbee, frog, frosting, frown, frozen, fruit, fry);
GR (grab, grade, grandfather, grandpa, grandmother, grandma, grapes, graph, grass, grasshopper, grave, gravy, gray, grey, green, grill, grin, groom, grow, grub);
PR (pram, prawn, pray, present, president, press, pretzel, prey, price, prince, princess, printer, prize, project, props);
TR (trace, tractor, trail, train, trampoline, trap, trash, tray, treasure, treat, tree, triangle, trim, trip, trophy, truck, trumpet, trunk).
CVCe Words (Unit 6)
a_e
fame, came, name, game, same, tame, fake, make, rake, bake, sake, take, lake, cake, wake, gave, pave, cave, wave, save, date, fate, hate, gate, late, mate, rate, bale, male, pale, sale, tale, cane, mane, lane, pane, cape, tape, case, base, vase, face, race, lace, cage, page, wage, rage, made, wade, jade, maze, gaze
i_e
bike, hike, like, hide, ride, side, tide, wide, dive, five, hive, dine, line, mine, nine, pine, vine, wine, bite, kite, pipe, ripe, wipe, file, mile, pile, tile, dime, lime, mime, time, dice, mice, lice, nice, rice, vice, wise
o_e
bone, cone, tone, zone, phone, hole, mole, pole, hose, nose, pose, rose, dose, rope, lobe, robe, code, mode, rode, joke, poke, woke, dome, home, note, tote, vote, hope, cope
u_e
cube, tube, dune, tune, mute, cute, fume, fuse, dude, huge, mule, rule, rude
Ending Blends, Glued Sounds, R-Controlled Vowels (Unit 7)
Ending L Blends
LD: bald, build, cold, fold, old, told
LF: elf, golf, half, self, shelf, wolf
LK: chalk, milk, talk, walk, yolk
LP: gulp, help, sculp
LT: adult, belt, bolt, melt, quilt, salt
Ending S Blends
SK: ask, desk, husk, mask, tusk, whisk
SP: clasp, gasp, grasp, wasp
ST: cast, fist, list, nest, toast, vest
Ending N Blends
ND: hand, pond, sand, send, wand, wind
NT: cent, count, paint, plant, tent, vent
Glued Sounds
NG: fang, king, lung, ring, sing, wing
NK: drink, dunk, honk, sink, tank, wink
R Controlled Vowels
AR words: bark, barn, car, harp, jar, scar, star, yarn
ER words: baker, flower, hammer, spider, water, whisper
IR words: bird, circle, dirt, girl, squirt, stir
OR words: cord, cork, fork, horn, storm, torn
UR words: curl, hurt, nurse, purse, turn, turtle
Vowel Teams and Diphthongs (Unit 8)
AI: jail, mail, paint, rain, sail, train, nail, pail, tail, snail
AY: hay, pay, play, ray, tray, say
EE: feed, peek, see, seed, sleep, three, bee, sheep, cheese, tree, jeep, sweep
EA: beads, eat, leaf, leak, read, tea
OA: boat, coat, loaf, road, toast, goat
OE: doe, hoe, Joe, toe, tomatoes
IE: cries, die, flies, fries, pie, tie
IGH: night, light
UE: argue, barbecue, clue, glue, rescue, tissue
UI: bruise, fruit, juice, suit
OI: boil, coin, foil, oil, point, spoil
OY: joy, toy, oyster, annoy, cowboy, destroy
OW: bow, brow, crown, howl, town, towel
OU: ground, house, mouse, shout, snout, sound
AU: autumn, haul, laundry, pause, sauce, vault
AW: draw, lawn, paw, saw, straw, yawn
OO: boot, hoop, moon, room, root, tooth
EW: blew, brew, chew, dew, grew, screw
Common Core Standards covered
RF.K.1D - Recognize and name all upper- and lowercase letters of the alphabet.
RF.K.2 - Demonstrate understanding of spoken words, syllables, and sounds (phonemes).
RF.K.2a - Recognize and produce rhyming words.
RF.K.2b - Count, pronounce, blend, and segment syllables in spoken words.
RF.K.2c - Blend and segment onsets and rimes of single-syllable spoken words.
RF.K.2d - Isolate and pronounce the initial, medial vowel, and final sounds (phonemes) in three-phoneme (consonant-vowel-consonant, or CVC) words. (This does not include CVCs ending with /l/, /r/, or /x/.)
RF.K.3 - Know and apply grade-level phonics and word analysis skills in decoding words.
RF.K.3a - Demonstrate basic knowledge of one-to-one letter-sound correspondences by producing the primary sound or many of the most frequent sounds for each consonant.
RF.K.3b - Associate the long and short sounds with common spellings (graphemes) for the five major vowels.
RF.K.3c - Read common high-frequency words by sight (e.g., the, of, to, you, she, my, is, are, do, does).
RF.K.3d - Distinguish between similarly spelled words by identifying the sounds of the letters that differ.
RF.1.2 - Demonstrate understanding of spoken words, syllables, and sounds (phonemes).
RF.1.2a - Distinguish long from short vowel sounds in spoken single-syllable words.
RF.1.2b - Orally produce single-syllable words by blending sounds (phonemes), including consonant blends.
RF.1.2c - Isolate and pronounce initial, medial vowel, and final sounds (phonemes) in spoken single-syllable words.
RF.1.2d - Segment spoken single-syllable words into their complete sequence of individual sounds (phonemes).
RF.1.3 - Know and apply grade-level phonics and word analysis skills in decoding words.
RF.1.3a - Know the spelling-sound correspondences for common consonant digraphs.
RF.1.3b - Decode regularly spelled one-syllable words.
RF.1.3c - Know final -e and common vowel team conventions for representing long vowel sounds.
RF.1.3g - Recognize and read grade-appropriate irregularly spelled words.
RF.2.3 - Know and apply grade-level phonics and word analysis skills in decoding words.
RF.2.3a - Distinguish long and short vowels when reading regularly spelled one-syllable words.
RF.2.3b - Know spelling-sound correspondences for additional common vowel teams.
RF.2.3e - Identify words with inconsistent but common spelling-sound correspondences.
RF.3.3 - Know and apply grade-level phonics and word analysis skills in decoding words.