Love using sight word readers with kids? How about both paperless and printables sight word books? They are perfect for Google Classroom: use on iPads, Chromebooks, tablets and laptops. Or just print and use!
This is a GROWING BUNDLE which will give you access to the paperless SIGHT WORD READERS that I have and will create (listed in the description).
Number of pages: 381
Common Core Standards addressed: RF.1.4a, RF.1.3g, RF.1.3, RF.K.4, RF.K.3c, RF.K.3
Grade Levels: PreK, Kindergarten, 1st, 2nd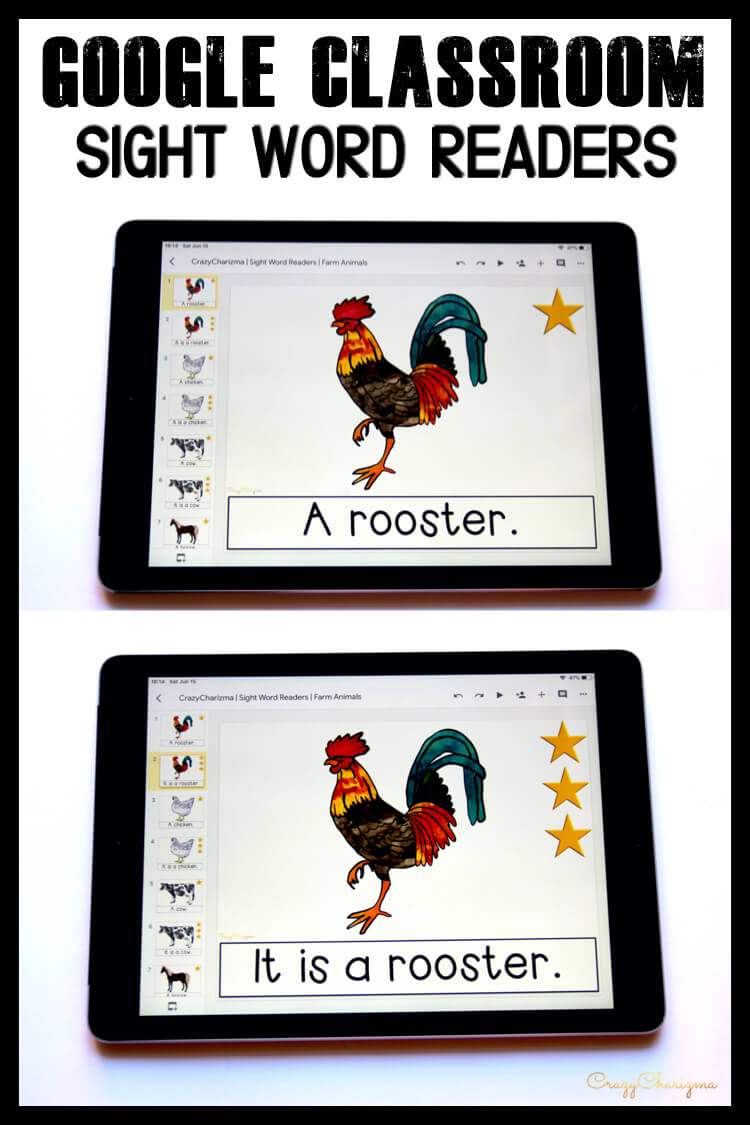 Every time I add a new set, the price of this bundle will grow. The sooner you purchase this growing bundle, the better deal you will receive!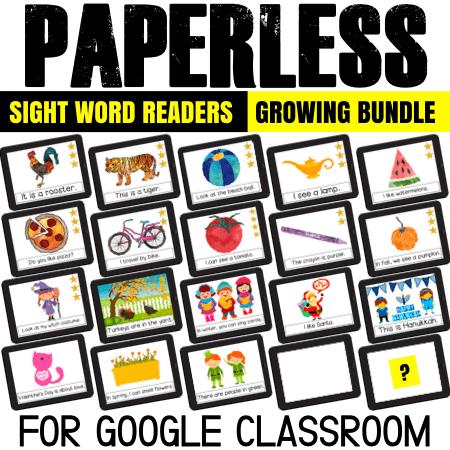 What will you get in this emergent readers bundle?
Sight Word Readers | Desert - added
Sight Word Readers | Summer - added
Sight Word Readers | Food - added
Sight Word Readers | Fruits - added
Sight Word Readers | Vegetables - added
Sight Word Readers | Transport - added
Sight Word Readers | Halloween - added
Sight Word Readers | Fall - added
Sight Word Readers | Christmas - added
Sight Word Readers | Winter - added
Emergent Reader | Hanukkah - added
Sight Word Readers | Spring - added
Sight Word Readers | Easter - will be added in March
Sight Word Readers | Earth Day - will be added in April
What exactly does the bundle contain?
✔ Teacher Notes pdfs (with the links and directions to access Google Slides)
✔ 381 (currently, will grow) interactive slides with moveable pieces
Ways to use the sight word readers
Sometimes I directly use it in Google Slides (through Google Classroom) where kids read a sentence and then drag a star to a certain word. This way is possible only in EDIT MODE.
If you'd love to use it in PRESENTATION MODE, kids will just read sentences (visual and oral work).
If you are offline, download the Google Slides set (beforehand) by saving as a PDF document. Open for a kid on a tablet and let him/her read and tap to the next slide.
Save as a PDF document and print the pages. Let the kids touch the paper and read.
These paperless activities can be used on Chromebooks, Android Tablets, iPads, laptops, smart boards and other devices. The games are perfect for kids in prek, kindergarten, first grade, and second grade.
What words are practiced:
sight words
a, it, is
farm animals
rooster, chicken, cow, horse, rabbit, sheep, pig, mouse
sight words
a, this, is
wild animals
tiger, panda, snake, zebra, sloth, wolf, raccoon, seal, swan, rhino
sight words
a, I, see
other words
lamp, princess, prince, camel, palace, carpet, jug, sword
sight words
look, at, the
summer vocabulary
sunglasses, sun, ice cream, swimsuit, shorts, ladybug, firefly, flip flops, beach ball, palm tree, crab, dolphin, octopus, jellyfish
sight words
do, you, like
food vocabulary
pizza, sandwiches, hot dogs, cakes, pretzels, doughnuts, tea, coffee, popcorn
sight words
a, I, like
fruits
strawberry, lemon, raspberry, orange, apple, pineapple, banana, cherry, grapes, watermelon
sight words
a, I, can, see
vegetables
tomato, pepper, potato, carrot, onion, avocado, eggplant, mushrooms, peas, corn, broccoli
sight words
I, by
transport vocabulary
plane, car, ship, bike, train, taxi
sight words
the, is
school supplies
pen, glue, pencil, colored pencil, crayon, paperclip, apple, clipboard, binder clip, scissors
sight words
look, at, my
Halloween costumes
skeleton, witch, zombie, pumpkin, devil, ghost, cauldron, vampire, mummy, Frankenstein, cat
sight words
in, we, see
fall vocabulary
crow, scarecrow, apples, pear, acorns, umbrella, raccoon, rake, sunflower, pumpkin, spider, turkey, leaves, spider web
prepositions
in, on, near, by, under, between
other sight words
are, the, is, and
sight words
I, like, love, they, we
Christmas vocabulary
Christmas stockings, Santa, Christmas cookies, Christmas tree, Christmas gifts, Christmas carols, drinks, ornaments, snowman
sight words
in, you, can
winter vocabulary
sled, snowboard, carols, ice hockey, ice skate, ski, cocoa, ornaments, fireplace, Christmas tree, cookies, snow globes
sight words
this, is, a, the, we, and
Hanukkah vocabulary
Hanukkah, menorah, gift, gelt, dreidel, Star of David, latkes, eight days and nights
sight words
is, about, we, get, with
Valentine's Day vocabulary
Valentine's Day, kindness, love, hugs, kisses, chocolate, presents, candy, flowers, valentines, friends
sight words
can, is, are, in
Spring vocabulary
ladybug, bee, butterfly, flowers, plants, play outside, showers, sun, tree, grass, umbrella, rain boots, raincoat
sight words
there, is, are
St. Patrick's Day vocabulary
St. Patrick's Day, leprechaun, rainbow, pot of gold, luck, clover, gold, celebration, green, food, costumes
Want to wishlist this set? Pin for later.
Got questions about paperless resources?