Do you need a comprehensive way to practice numerous Grammar and Vocabulary topics in 3rd, 4th and 5th grade? Grab this time saving growing bundle of language arts centers and games for your students.
This is a GROWING BUNDLE which will give you access to many GRAMMAR and VOCABULARY sets that I have and will create (see the description). The sooner you purchase this growing bundle, the better deal you will receive!
Number of pages: 716
Common Core Standards addressed: L.5.5c, L.5.1d, L.5.1b, L.4.5c, L.4.1g, L.4.1d, L.4.1b, L.4.1, L.3.5c, L.3.4b, L.3.2e, L.3.1g, L.3.1f, L.3.1e, L.3.1d, L.3.1b, RF.3.3a
Grade Levels: 3rd, 4th, 5th, 6th, Homeschool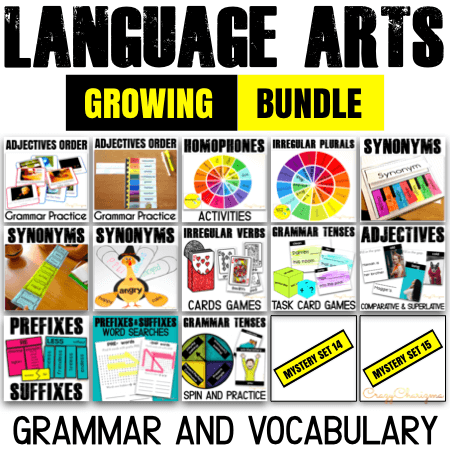 WHAT SETS WILL YOU GET:
1. Ordering Adjectives Cards
2. Ordering Adjectives Spiral
3. Irregular Plural Nouns
4. Homophones Activities
5. Synonyms Interactive Notebook
6. Synonyms Games
7. Synonyms | Thanksgiving Edition
8. Irregular Verbs Card Games - added
9. Verb Tenses Activities - added
10. Comparative and Superlative Adjectives - added
11. Prefixes and Suffixes Puzzles - added
12. Prefixes and Suffixes Word Searches - added
13. Verb Tenses Activities Spinners - added
14. MYSTERY SET #14 - will be added in March
15. MYSTERY SET #15 - will be added in April
WHAT TOPICS AND WORDS ARE PRACTICED
TOPIC #1 - Ordering Adjectives
(put words in order, describe the object, match adjectives with categories, choose the appropriate adjective(s) for the noun, find opposites to adjectives, etc.)
How to use the set?
as a spiral notebook (all details how to create it inside!)
as a whole page - choose the appropriate adjective(s) for the noun
as a whole page - find opposites to adjectives
as a category match
WHAT DO TEACHERS THINK* ABOUT THIS SET?
"Great resource. Love the idea of a spiral practice notebook. Can't wait to use with my class, we will be using part of it in a center. Thank you so much for providing a black and white version along with the color." - Fiorela P.
"Love the colors!" - Susana V.
*Taken from TPT.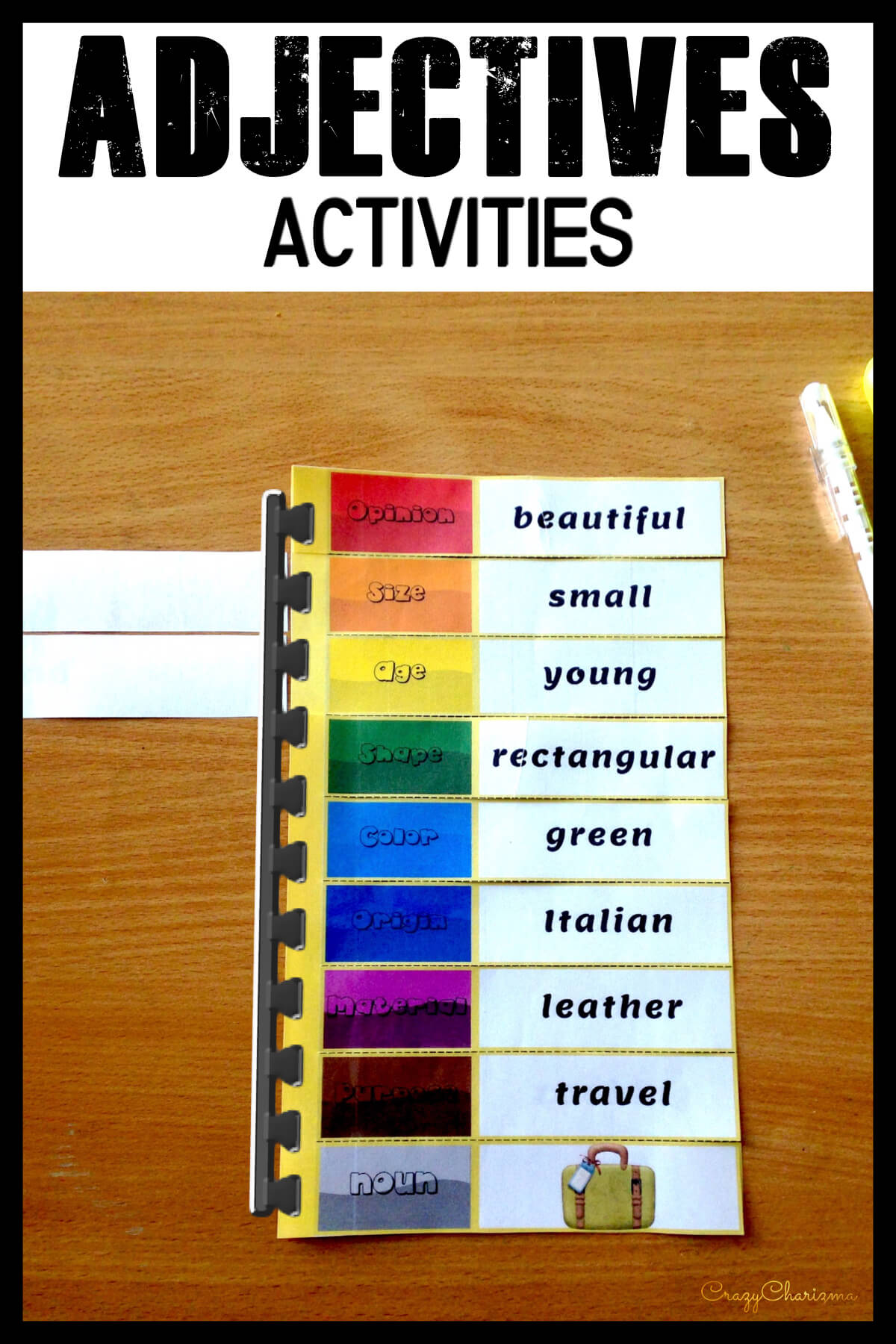 What does this set include?
~ 72 "put words in order" cards
~ 27 "describe the object" cards
~ 8 "categories" cards
~ 63 "match adjectives with categories" cards
WHAT DO TEACHERS THINK* ABOUT THIS SET?
"My students LOVED using this activity during centers time. They always ask when we are going to ordering adjectives again." - Elena S.
"Thank you for these cards, they were very helpful with my ESL student."
"We needed lots of practice with this and these were just the ticket."
*Taken from TPT.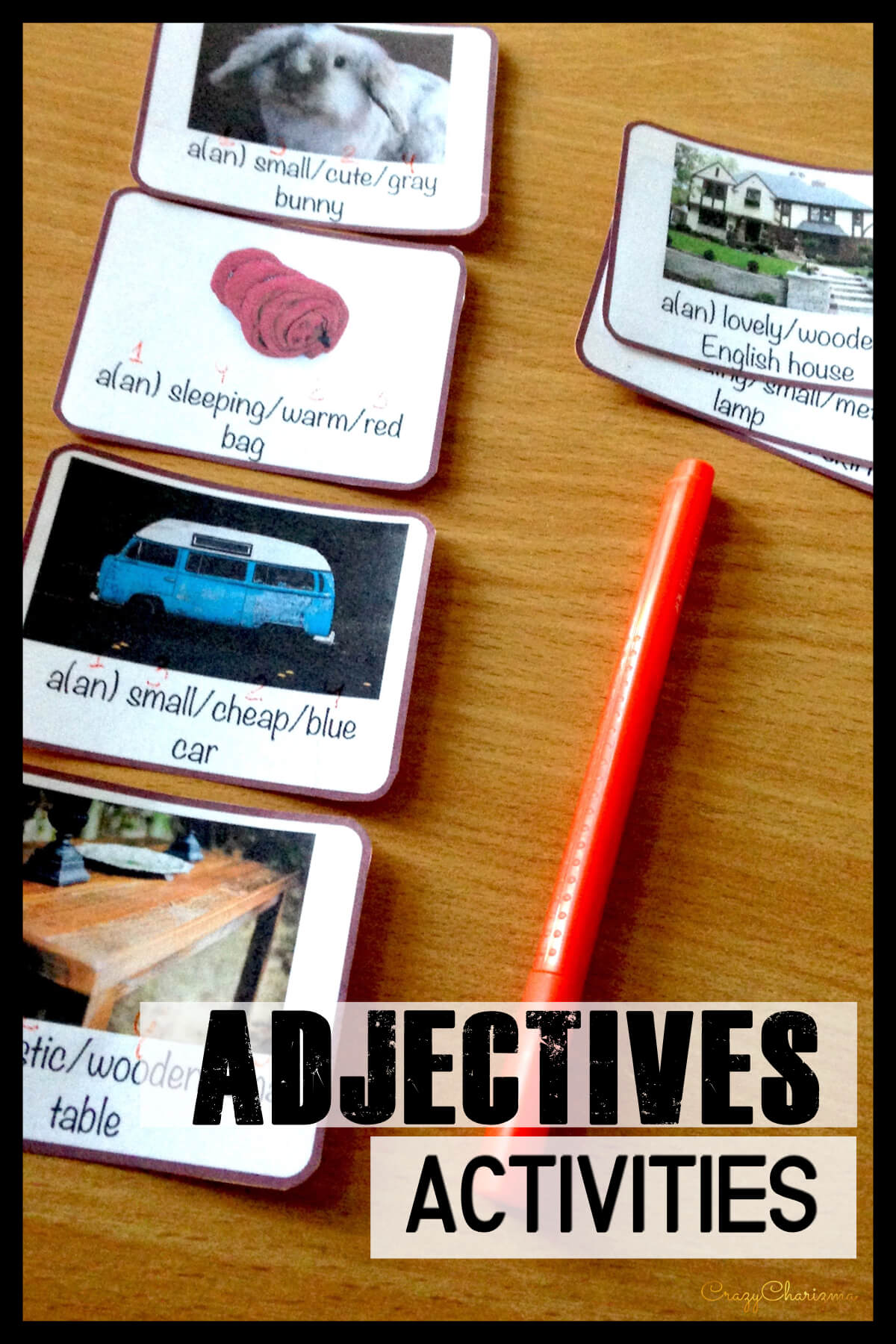 What irregular plural nouns are practiced?
-fe —> -ves
knife - knives, life - lives, wife - wives
-f —> -ves
calf - calves, elf - elves, dwarf - dwarves, half - halves, leaf - leaves, loaf - loaves, scarf - scarves, self - selves, shelf - shelves, thief - thieves, wolf - wolves
-y —> -ies
baby - babies, battery - batteries, berry - berries, body - bodies, butterfly - butterflies, candy - candies, cherry - cherries, city - cities, copy - copies, country - countries, daddy - daddies, dictionary - dictionaries, family - families, hobby - hobbies, jelly - jellies, lady - ladies, nanny - nannies, party - parties, penny - pennies, pony - ponies, puppy - puppies, sky - skies, spy - spies, teddy - teddies, trophy - trophies
-s/x/ch/sh/z —> -es
arch - arches, beach - beaches, bench - benches, boss - bosses, box - boxes, brush - brushes, bunch - bunches, bus - busses, buzz - buzzes, church - churches, circus - circuses, dish - dishes, dress - dresses, fizz - fizzes, flash - flashes, fox - foxes, kiss - kisses, quiz - quizes, switch - switches, watch - watches, wish - wishes
-o —> -oes
domino - dominoes, echo - echoes, hero - heroes, mango - mangoes, potato - potatoes, tomato - tomatoes, tornado - tornadoes, torpedo - torpedoes, volcano - volcanoes, zero - zeroes
-on —> -a
criterion - criteria, phenomenon - phenomena
-is —> -es
analysis - analyses, basis - bases, crisis - crises, diagnosis - diagnoses, oasis - oases
-us —> -i
alumnus - alumni, cactus - cacti, fungus - fungi, nucleus - nuclei, octopus - octopi, stimulus - stimuli, syllabus - syllabi
-a —> -ae
antenna - antennae, formula - formulae, larva - larvae
change vowel or word
child - children, fireman - firemen, foot - feet, goose - geese, louse - lice, man - men, mouse - mice, ox - oxen, person - people, that - those, this - these, tooth - teeth, woman - women
same form
bison, deer, elk, fish, moose, salmon, sheep, trout
WHAT DO TEACHERS THINK* ABOUT THIS SET?
"I'm always looking for more ways to work on irregular plural nouns. Thanks for creating this! How fun!" - Jessica S.
*Taken from TPT.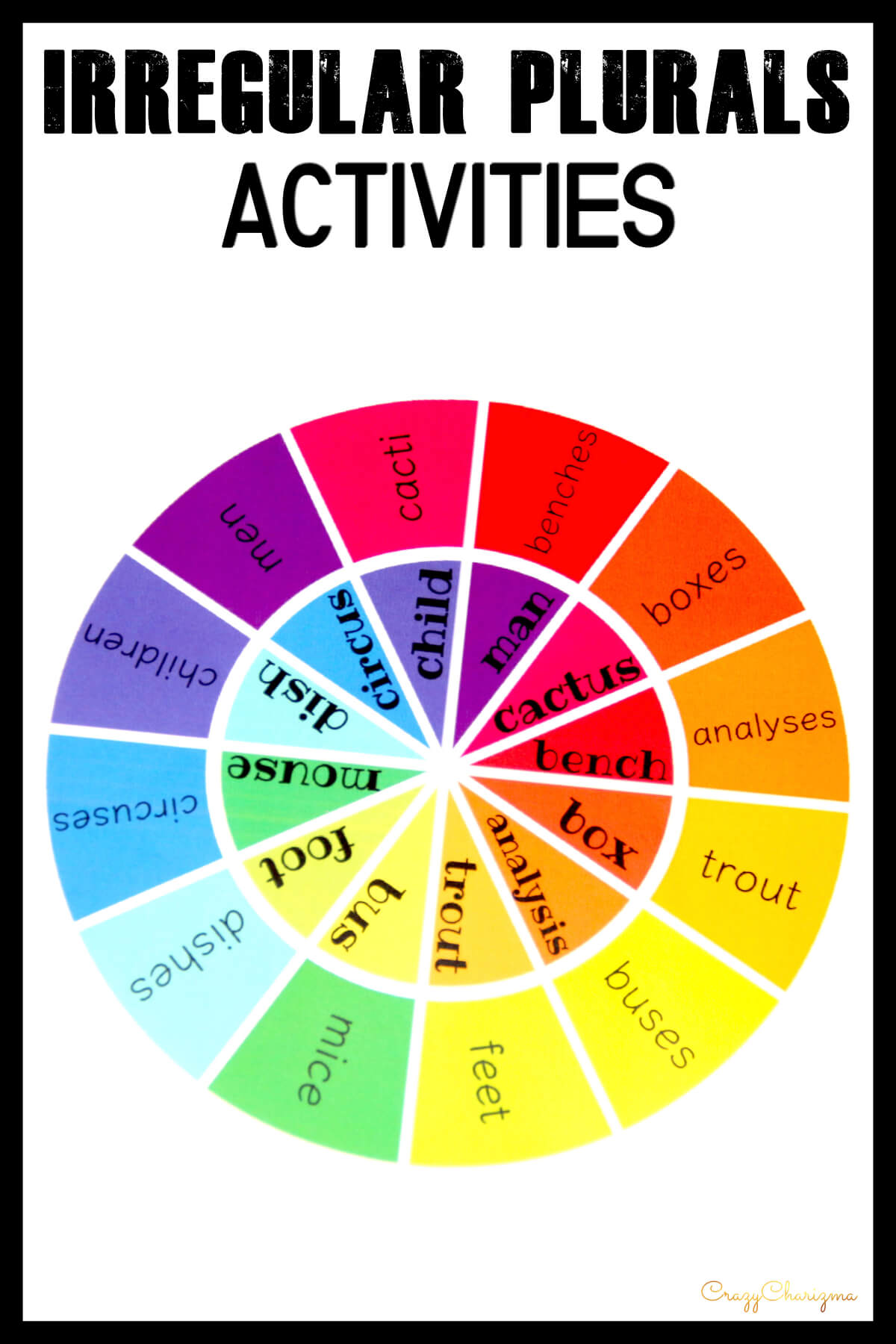 What homophones are practiced?
ant/aunt, aloud/allowed, ad/add, board/bored, blue/blew, beat/beet, bear/bare, be/bee, band/banned, ball/bawl, alter/altar, ate/eight, break/brake, ceiling/sealing, cellar/seller, cereal/serial, chilly/chili, currant/current, dear/deer, die/dye, dough/doe, eye/I, flea/flee, flew/flue, flower/flour, four/for, fur/fir, great/grate, grown/groan, guest/guessed, hare/hair, hear/here, heard/herd, hire/higher, hole/whole, hour/our, idle/idol, in/inn, its/it's, knew/new, knight/night, leak/leek, made/maid, mail/male, main/mane, maize/maze, meat/meet, mist/missed, muscle/mussel, no/know, nose/knows, not/knot, pail/pale, pair/pear, past/passed, piece/peace, plain/plane, principal/principle, raise/rays, red/read, ring/wring, road/rode, root/route, rose/rows, sale/sail, sea/see, seen/scene, sell/cell, some/sum, son/sun, stair/stare, steal/steel, sweet/suite, tail/tale, threw/through, toe/tow, waist/waste, wait/weight, week/weak, where/wear, which/witch, won/one, wood/would, write/right
WHAT DO TEACHERS THINK* ABOUT THIS SET?
"Awesome product! Very useful resource for my classroom. Thanks!"
"Very creative. Thanks." - Susana V.
*Taken from TPT.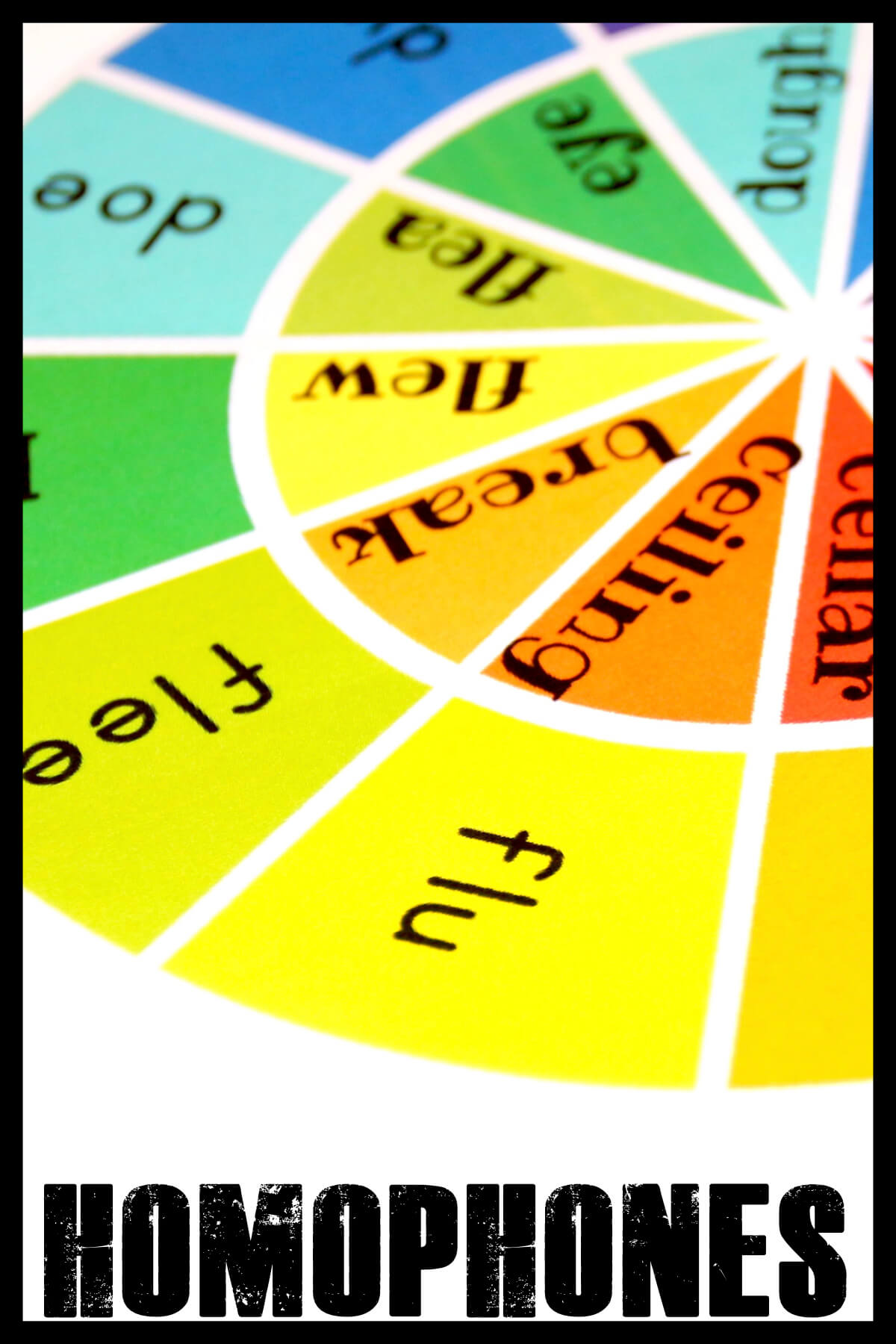 TOPIC #4 Synonyms
Here's a creative way to practice synonyms! Use these activities for early finishers, center work, whole class, homework or test prep.
WHAT DO TEACHERS THINK* ABOUT THIS SET?
"These were so much fun to make and learn about Synonyms. We needed a little practice with using words that were alike and yet different. It has helped in our writing and even new words for Grammer this year. We look forward to more of these resources and have told our friends to buy these." - Stephanie
"Good for reinforcement for the concepts of synonyms. Thanks!" - Lori
"I love that photo instructions and the fact that it is easy to use with my students. Thank you!" - Kathryn
"This is such a fun product! I love that you included several different instruments. The graphics for the piano guitar and drum are awesome! Thank you!" - Sarah
*Taken from TPT.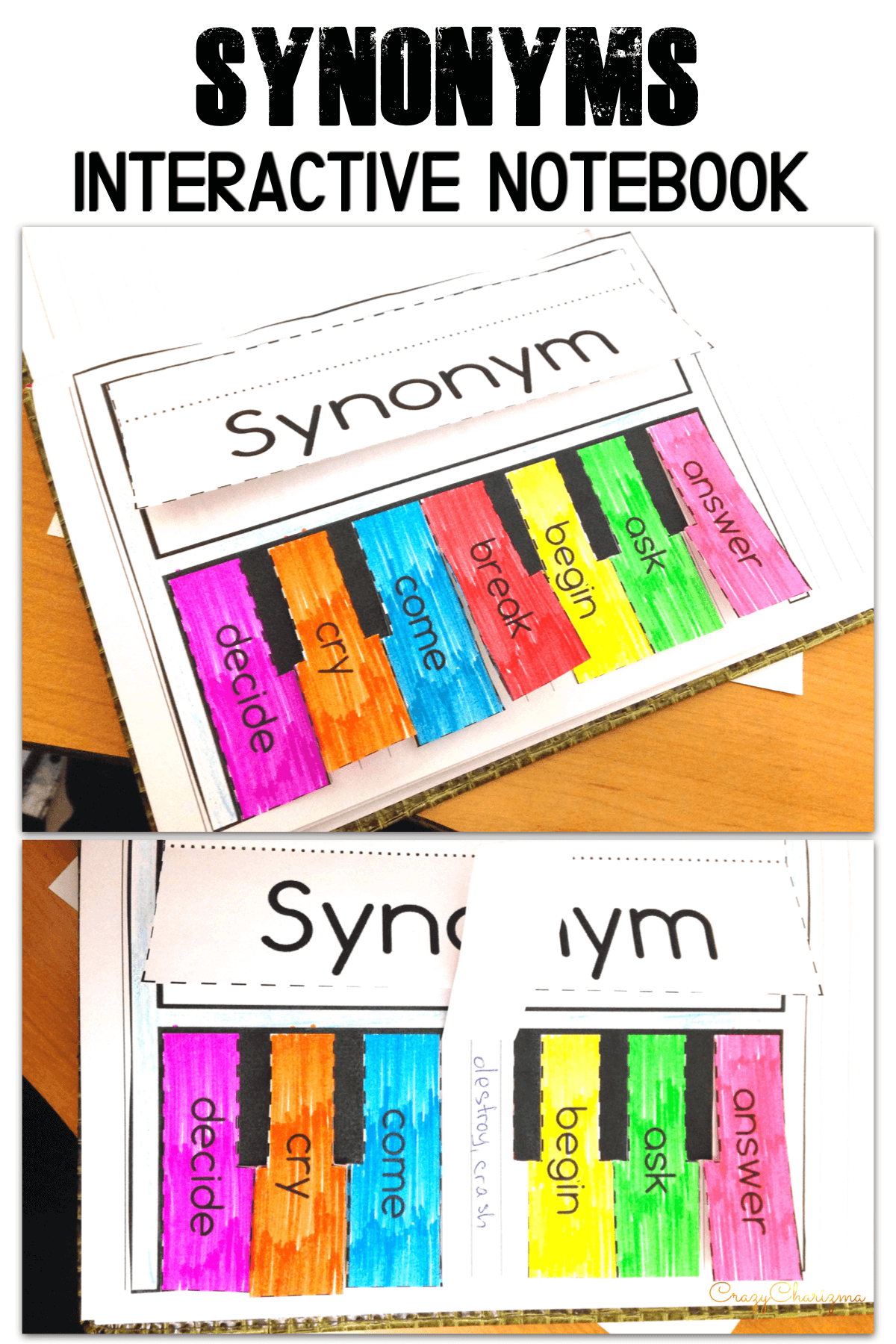 What games are mentioned?
scrolls
categories
rolls
trios
solos
WHAT DO TEACHERS THINK* ABOUT THIS SET?
"Wow, this was a lot more than I expected! I love how the cards are grouped by parts of speech and that you included several games! The synonym scroll game is so creative and fun!" - Sarah B.
*Taken from TPT.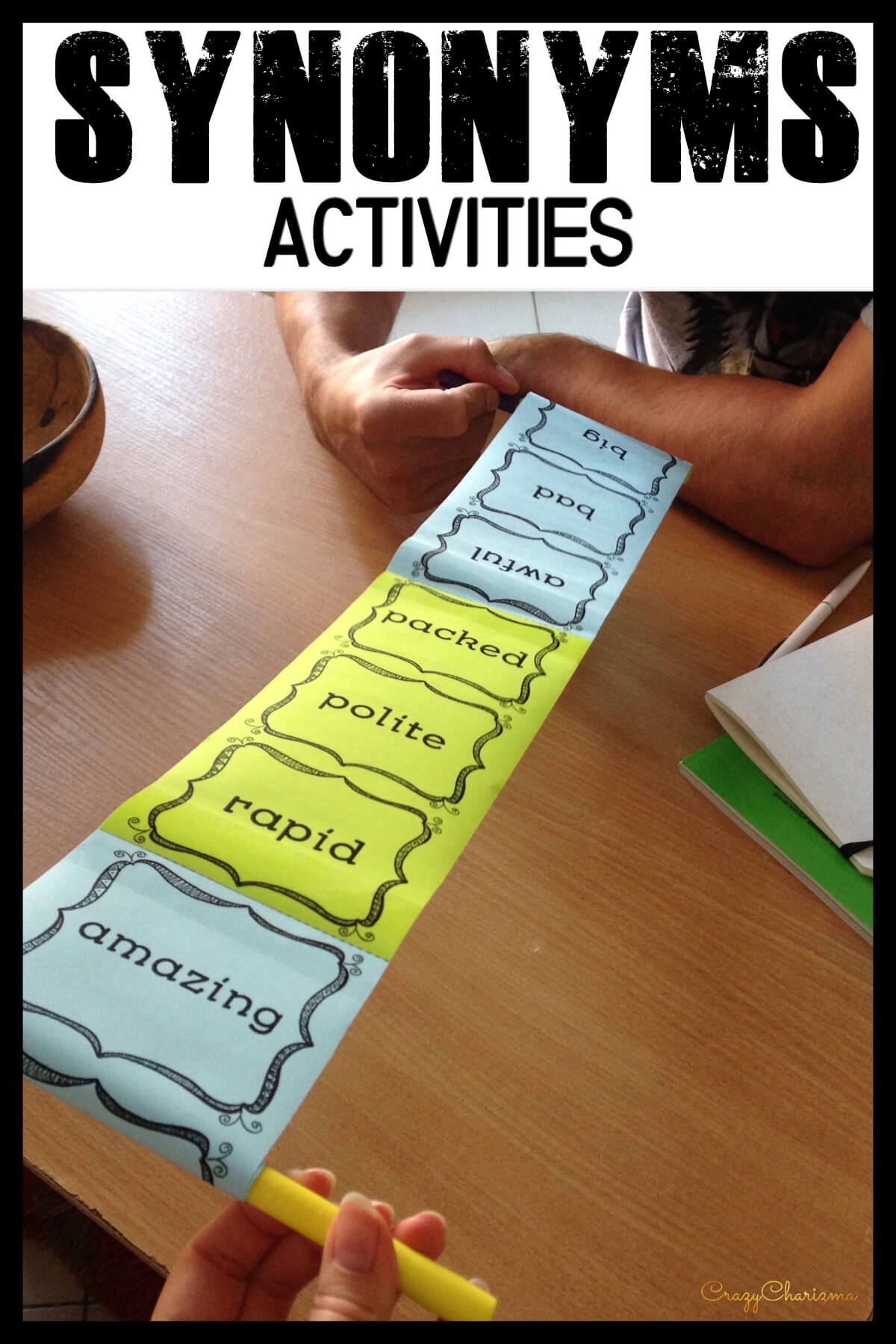 Do you need to practice various synonyms and it's November? Then use these turkeys and practice not only synonyms, but also opposites with your students! They will love these interactive and engaging activities.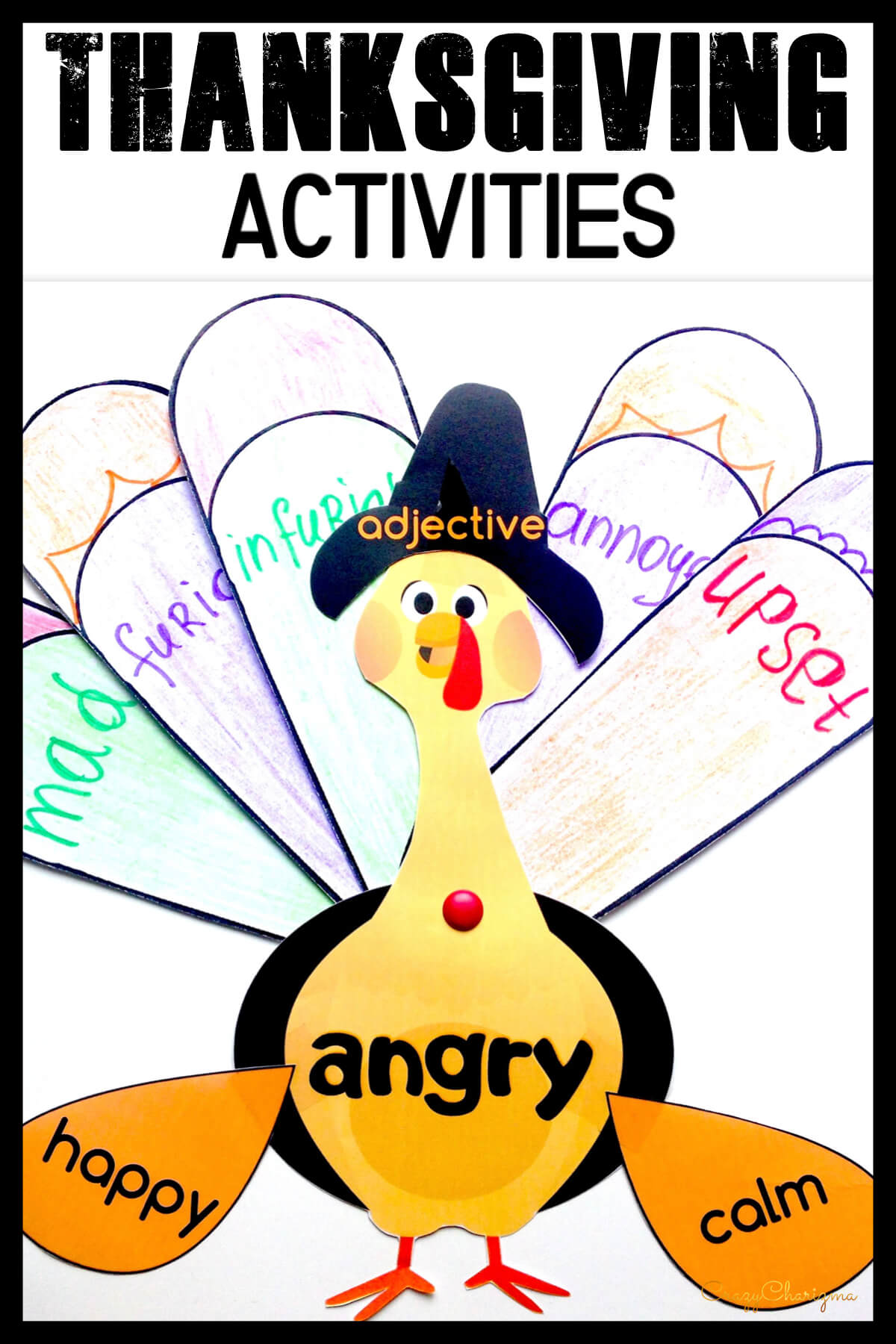 There can't be too many games to practice irregular verbs, right? Use the cards and play with irregular verbs in 10 engaging ways! Print in full color or B&W and start using in your classroom.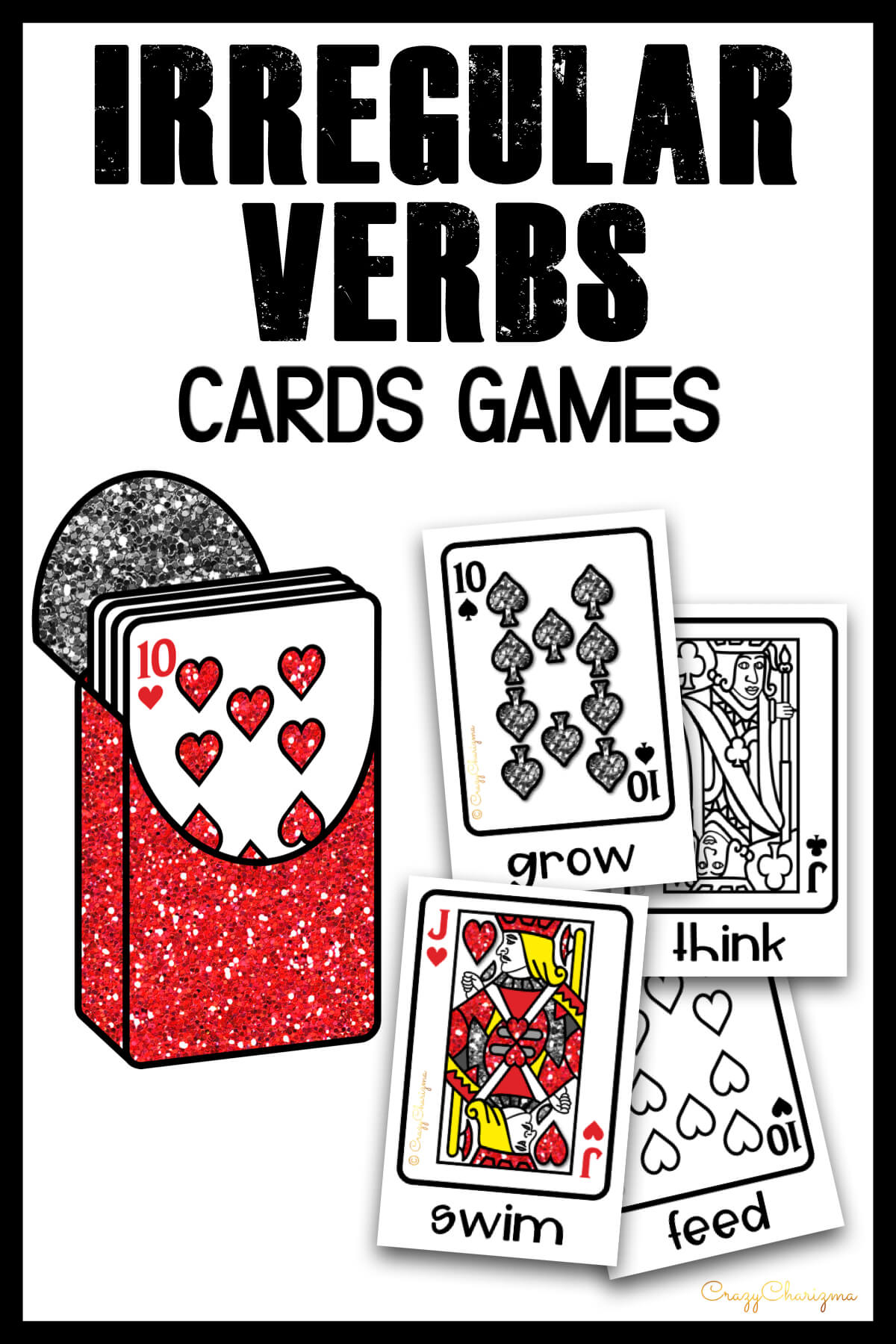 TOPIC #6 Verb Tenses
There can't be too many games to practice verb tenses, right? Roll the dice and transform sentences on the task cards! Print in full color or B&W. Take advantage of 5 engaging ways on how to use the cards.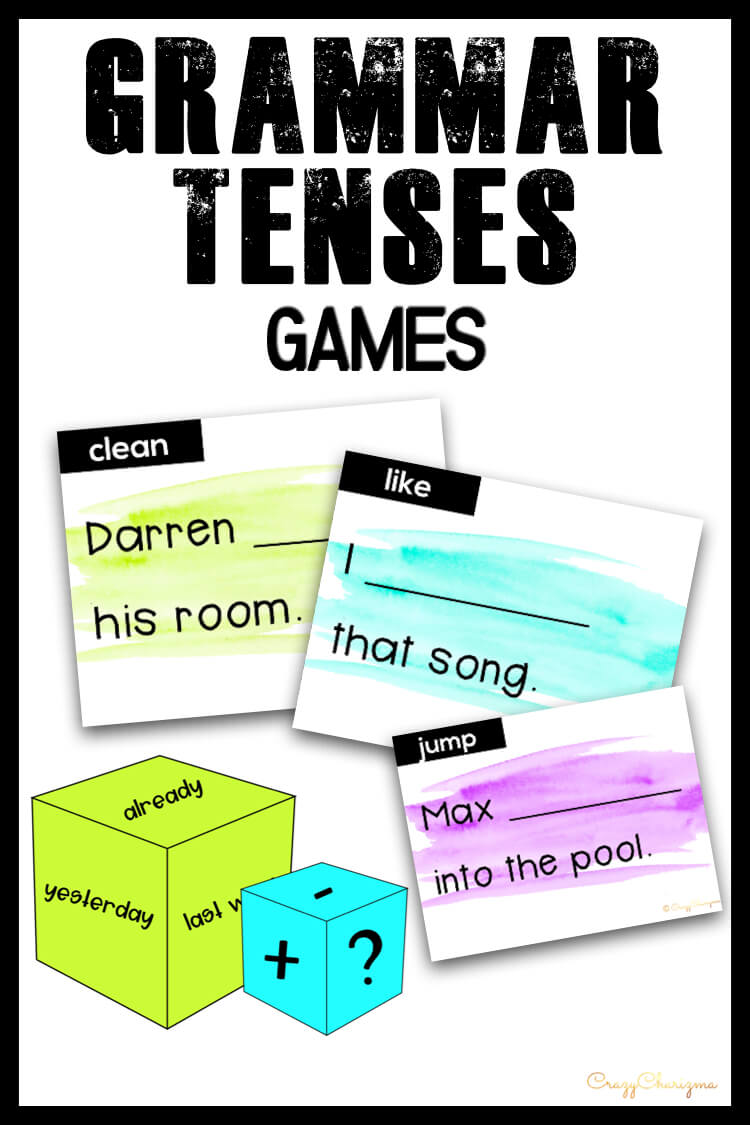 Spin and practice English verb tenses in a meaningful and engaging way. Take advantage of bright cards in color or save ink and print black and white cards. Practice all English tenses, as well as time expressions and articles!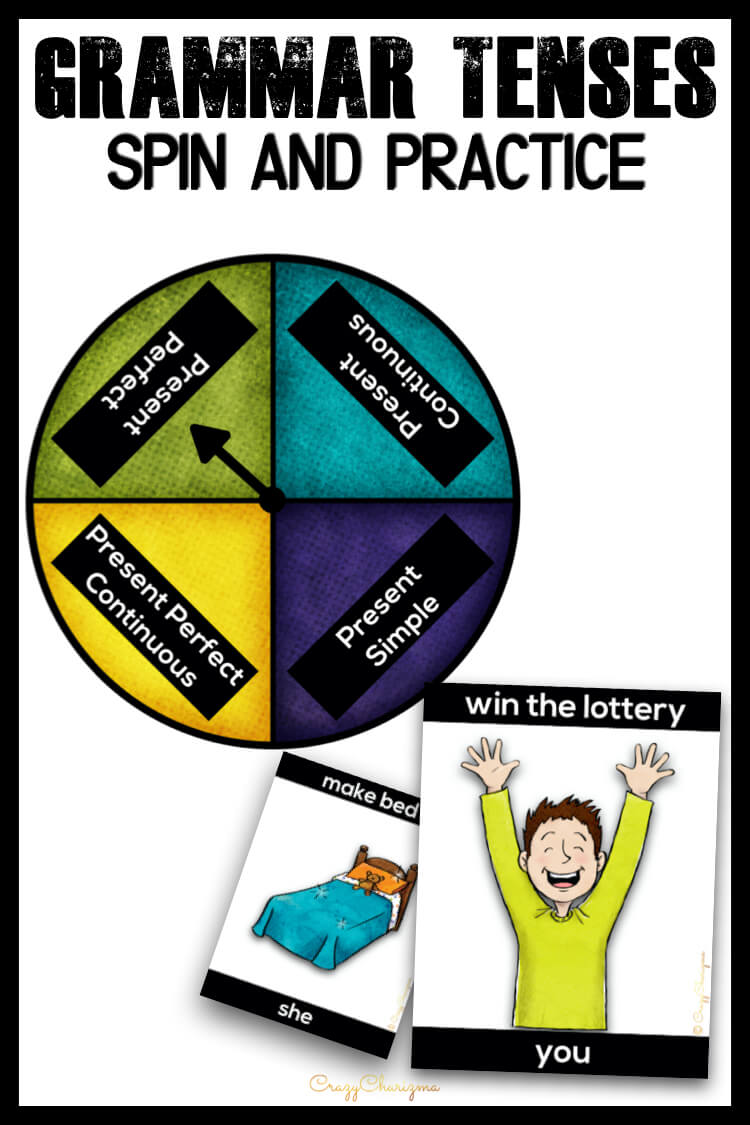 Need engaging activities to practice comparative and superlative adjectives? Use these grammar task cards with images and let kids practice degrees of comparison in a meaningful way!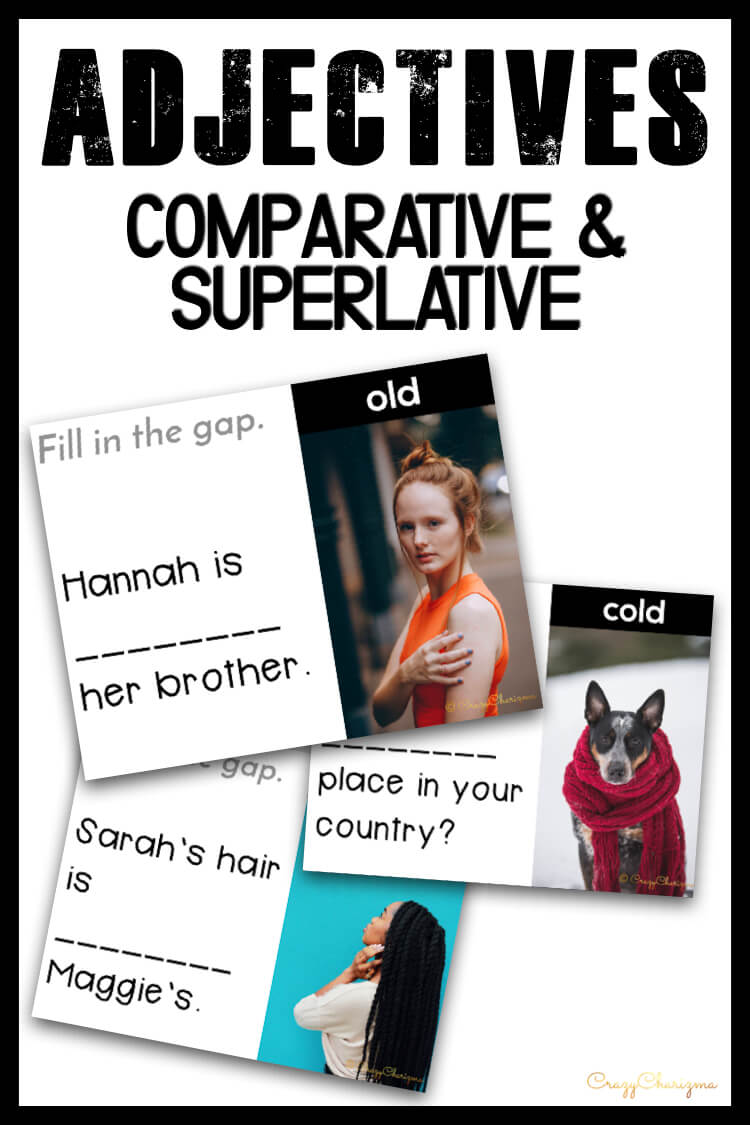 TOPIC #8 - Prefixes and Suffixes
Prefixes and suffixes can be tricky and challenging for students. But they shouldn't be! Use these fun puzzles for at least 4 weeks (or every time your kids ask for them!). Students will play with prefixes/suffixes, their meanings, and word examples.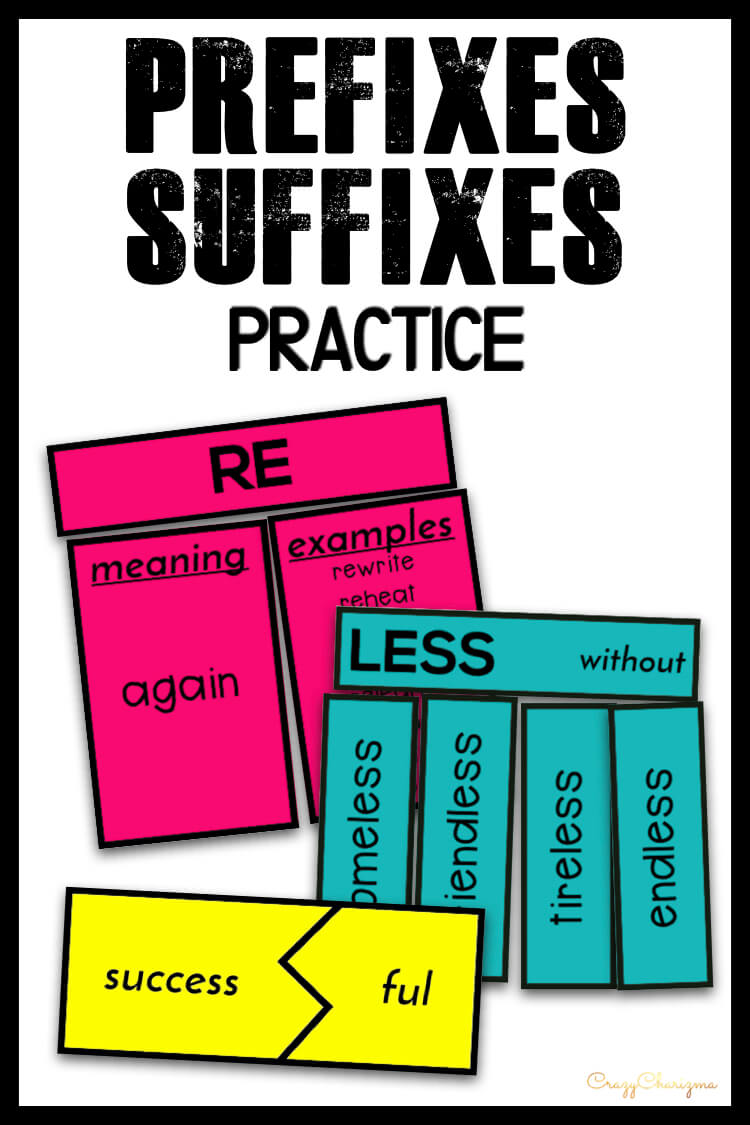 Prefixes and suffixes word searches are a perfect way to keep your students engaged. Print and use them with early finishers. Or when you need to work with small groups and have some students who can or need to practice more. Quick and sweet!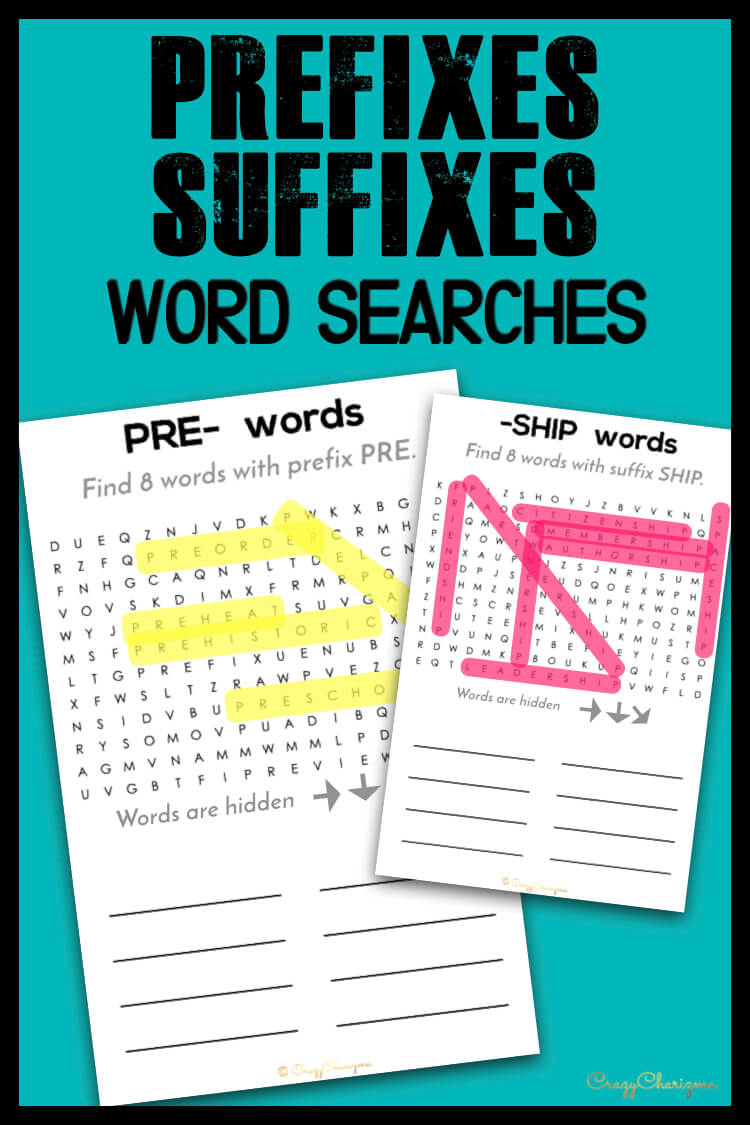 Please pin this for later or share.